In October Roy took me to a cooking class at the Chopping Block to celebrate my birthday. It was a grilling class and we got lucky with a beautiful fall evening. The kind of weather that practically begs you to hang out on a patio with a few beers and some good friends.
At the Chopping Block for a grilling class in October
We had such a good time that we signed up for another class in November with friends. The menu sounded amazing and I was pretty sure I'd regret it if I missed it. We would be making Gruyere fondue with apples and bread, spinach salad with warm bacon vinaigrette, soy glazed salmon, sweet
potato and celery root
hash and pumpkin donuts with chocolate dipping sauce. The meal did not disappoint and we had a ton of fun with Hannah and Rick. Surprisingly, the boys did most of the cooking!
Roy showing off his new-found seasoning skills
The entire meal was delicious but one of my favorite items was the sweet potato and celery root hash. The celery root gives the hash a nice lightness and the sweet potatoes caramelize beautifully. The red onion and bell pepper add some color and texture and the herbs add another layer of unexpected flavor. Rick and Hannah liked it so much they made it the next week for Thanksgiving and I've been anxiously awaiting a chance to make it at home too.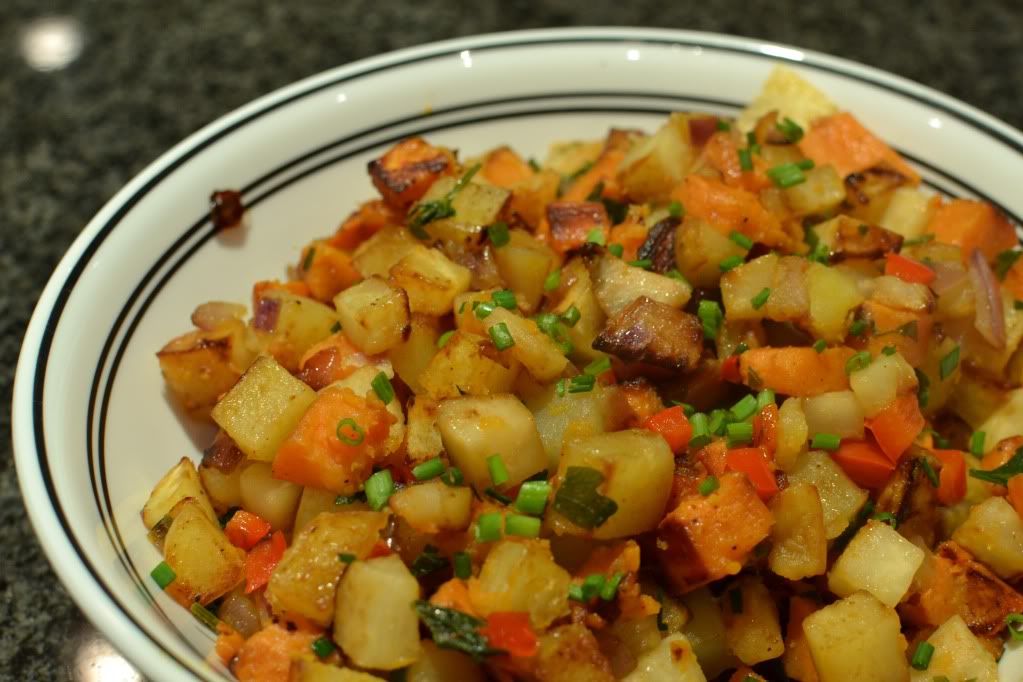 I finally had the opportunity to break out this recipe right before the holidays. By far, the hardest part of this dish is facing your fears and buying celery root. Once you do that, it's really easy to own it with your chefs knife!
Celery root with the top sliced off
Once you get rid of the outer layer, you slice and dice this like you would a potato. 
A few tips... use the largest skillet you have. There's a lot that goes into this and you want to give all the delicious ingredients enough room to be arranged in a single layer. That will ensure everything caramelizes well. And on the topic of carmalizing... make sure you give the veggies enough time to really caramelize before you stir or toss them. That was one of the "lessons" we learned in the class. You don't want to over stir or toss your veggies. Another lesson was about seasoning. You should season your food with salt each time you add ingredients, so that layers of flavor can build. So basic but it was news to me!!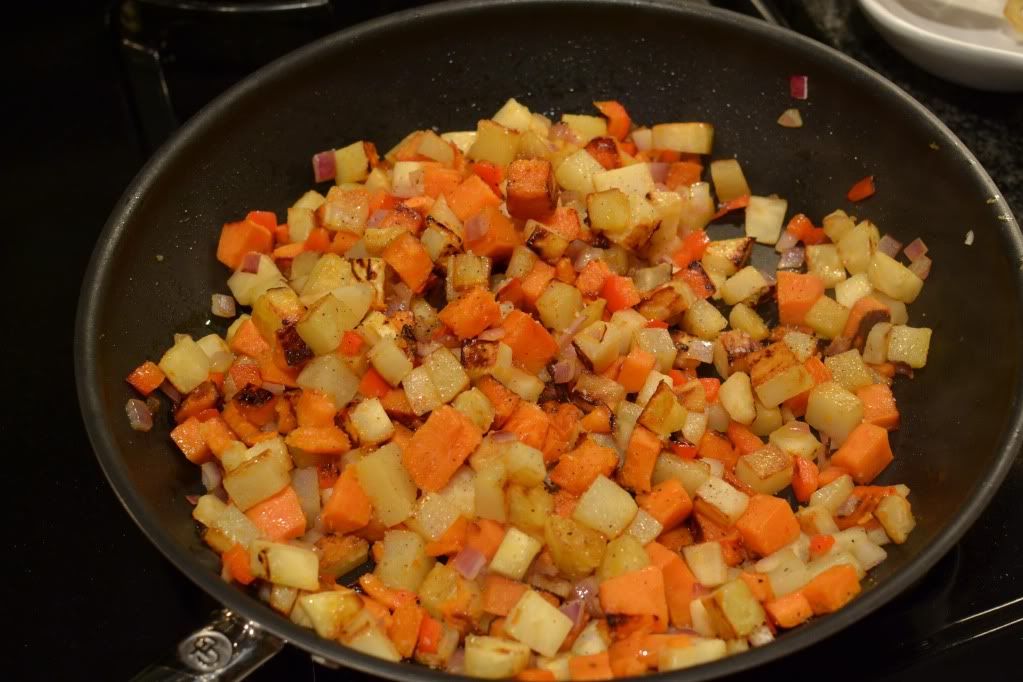 Roy doesn't love sweet potatoes so I compromised and used one sweet and one russet potato when I made this at home. In class we used two sweet potatoes, so keep that in mind and make the version that you prefer.
I also had a hard time getting the celery root to cook when I made this at home, so next time I'll probably add it a few minutes before I had the potatoes.
This is DELICIOUS and although it's a fall/winter dish, I think it would be great anytime of year. Enjoy!
*****
Sweet Potato and Celery Root Hash
serves 4; 35 mins (active)
2 Tbsp olive or grapeseed oil
1 sweet potato, peeled and cut into a half inch dice
1 russet potato, peeled and cut into a half inch dice
1 medium-sized celery root, peeled and cut into a half inch dice
1/2 red onion, small dice
1/2 red pepper, small dice
1 Tbsp chives, minced
2 Tbsp parsley, roughly chopped
Salt and pepper to taste
Heat a large saute pan over medium-high heat and add the olive or grapeseed oil. Saute the potatoes and celery root, tossing occasionally, until caramelized and softened, about 10 minutes.
Add the onions and peppers and continue to cook until tender, about 3-4 minutes.
Mix in the chives and parsley and season with salt and pepper to taste.