Whew, thanks for bearing with me while I was off having the time of my life with some fabulous ladies! I'm back now and with lots of good recipes to share during the next few weeks.
And now to catch you up on my most recent promise... Ina Garten's easy sole meuniere recipe. This was the other recipe my Mom and I made during her recent visit.
As it turns out, I kind of have some issues cooking fish. I'm not sure how someone can be so inept at cooking something that seems so easy, but 75% of the time I cook fish, we end up eating PB&J or frozen waffles and the fish ends up in the trash. The other 25% of the time, I cook salmon which is the only thing I seem to not screw up. Seriously, I have an amazing recipe for fish tacos with a lime guacamole sauce that I made a few weeks ago. But can I post it here? No, because the fish was so bad I had to substitute leftover chicken in the tacos.
So when my Mom and I decided to stay in and cook, this was an obvious dish for us to try. Mainly so I could get a little cooking lesson from the expert herself.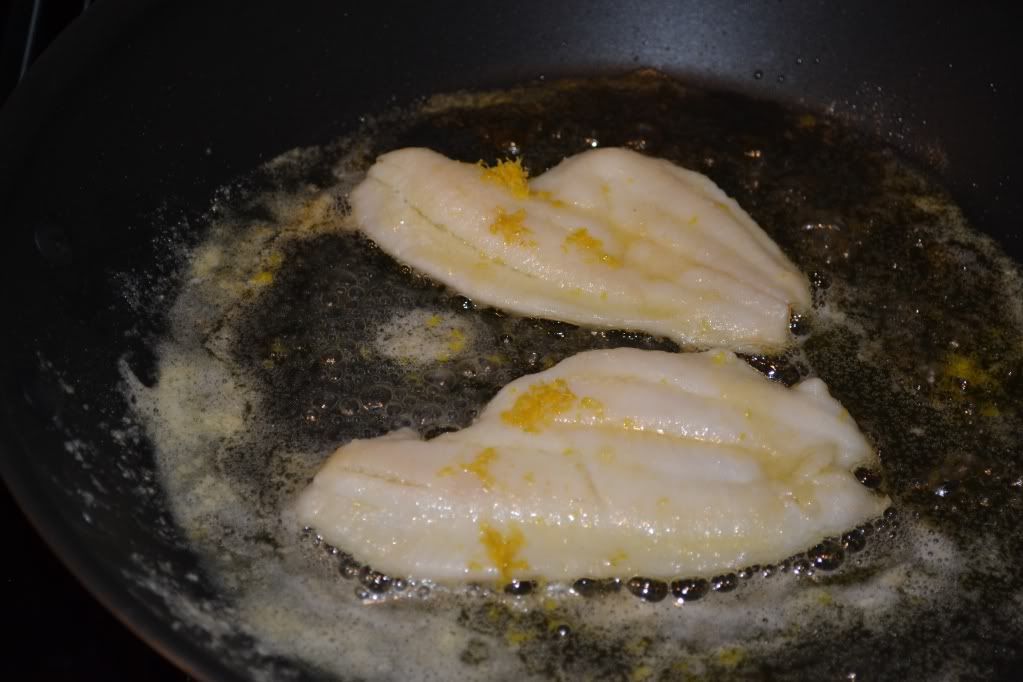 Ignore the clumpy lemon zest, I did a bad job sprinkling
Here's what I learned:
Your fish should not smell. If it smells fishy, it's turned. Toss it and order a pizza.
The fish should feel firm to the touch. Ask the fishmonger to smell and touch the fish before he wraps it up. Don't feel awkward, they should be proud to show off their goods.
Use a fish spatula. It's long, skinny and metal and is specifically designed to work with fish which can be so fickle. It will help keep the fish from falling apart. You'll know when the fish is ready to be turned because the spatula will slide easily underneath the fish.
Unknown fact: your fish spatula also doubles as a whisk.
Don't buy fish on Sunday or Monday mornings. There haven't been any fresh shipments and you'll be getting bottom of the barrel.
So just what the heck is sole meuniere? Well, meuniere refers to both a sauce and a method of preparation. It is simple, unelaborate and rustic. It's one of my favorite ways to cook, basically using just a few ingredients and letting them shine. In this case it was lemon, butter and sole.
Now that I'm out of my "fish rut" I plan on adding this to my regular rotation. I saved some leftovers for Roy but unfortunately they didn't make it past lunch the next day (I made sure to tell him how good it was though :) If you're fish challenged but willing to learn, give this a shot!
*****
Ina Garten's Easy Sole Meuniere
1/2 cup all-purpose flour
Kosher salt and freshly ground black pepper
4 fresh sole fillets, 3 to 4 ounces each
6 tablespoons unsalted butter
1 teaspoon grated lemon zest
6 tablespoons freshly squeezed lemon juice (3 lemons)
1 tablespoon minced fresh parsley
Preheat the oven to 200 degrees F and have 2 heat-proof dinner plates ready so you can keep your finished fish warm.
Pat the sole fillets dry with paper towels and sprinkle one side with salt. Combine the flour, 2 teaspoons salt, and 1 teaspoon pepper in a large shallow plate.
Heat 3 tablespoons of butter in a large (12-inch) saute pan over medium heat until it starts to brown. Dredge 2 sole fillets in the seasoned flour on both sides and place them in the hot butter.
Lower the heat to medium-low and cook for 2 minutes. Turn carefully with a metal spatula and cook for 2 minutes on the other side. While the second side cooks, add 1/2 teaspoon of lemon zest and 3 tablespoons of lemon juice to the pan.
Carefully put the fish filets on the ovenproof plates and pour the sauce over them. Keep the cooked fillets warm in the oven while you repeat the process with the remaining 2 fillets.
When they're done, grab your filets from the oven, sprinkle with the parsley, salt, and pepper if needed and serve immediately.
Note: if your lemons aren't super juicy, microwave them for about 30 seconds and then cut and squeeze them. You will be shocked and how much juice was hiding in there.