I started going to
Camp Strawderman
the summer I was nine years old. What started out as something that can only be described as "get her out of her comfort zone" quickly turned into a love affair with the Blue Ridge mountains.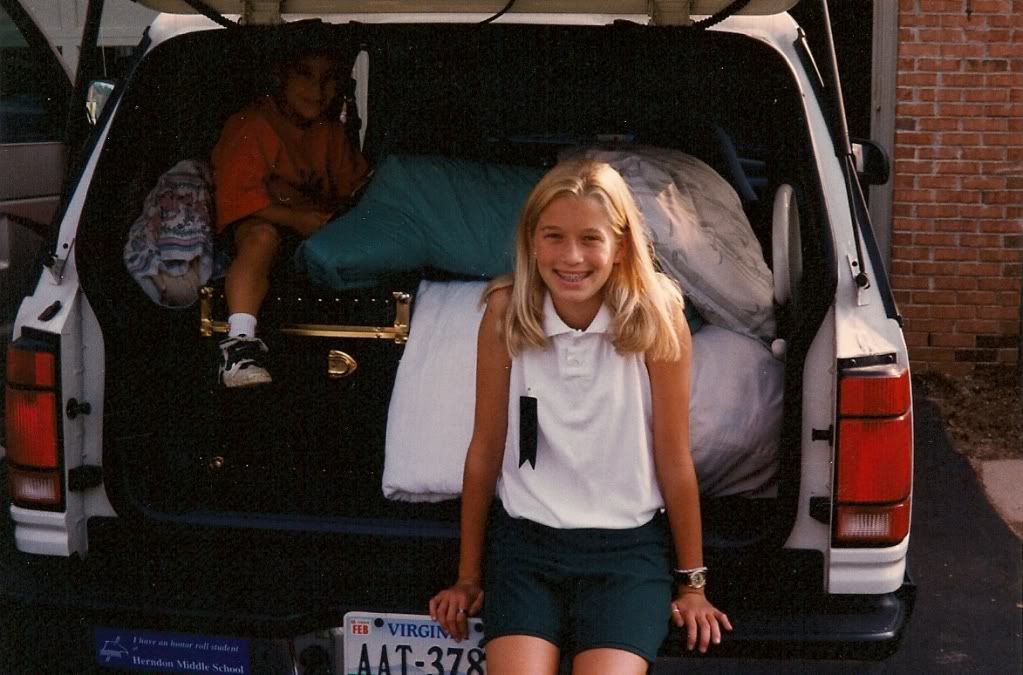 Do you see Clark hanging out in the back of the car trying to blend in and hope he can spend 2 weeks at Camp too?
There were no flushing toilets, we used outhouses that were fraught with spiders and bugs and the occasional horse if someone was pulling a prank. We swam in a creek and rode horses. There were no TVs or phones and there was just enough electricity to play the boombox in our cabin during the morning and power our lights until taps at 9:30. Once every two weeks we had to get up early and make our own breakfast which they cleverly called "pioneering".
Why yes, we are hanging out on the steps that led to the outhouse that was parked in the middle of the horse fields!
I was a camper at Strawderman for nine years (yes, you read that right, I went to camp long after it wasn't "cool" anymore). Those summers were some of the best and most influential of my life. Seriously, you spend a month using an outhouse and swimming in a creek and you suddenly become a little less diva. Which I'm sure pleased my parents, particularly during those lovely teenager years.
Every summer I got to pick the meal we ate on my last night at home and the meal we ate on my first night back. A tradition that continued when I started going to college and when my brother started going to golf camp (an unbelievably different summer camp experience from the one I had... including maids, non-alcoholic daiquiris by the pool and a dinner so formal each night he had to wear a jacket).
For years I requested Mexican Casserole, a recipe I'll share sometime in the next few months. It's a family favorite and was actually what I made for Roy the first time I ever cooked him dinner. But if I wasn't requesting Mexican Casserole, I was requesting this... creamy homemade mac 'n' cheese with a crumbly cracker topping.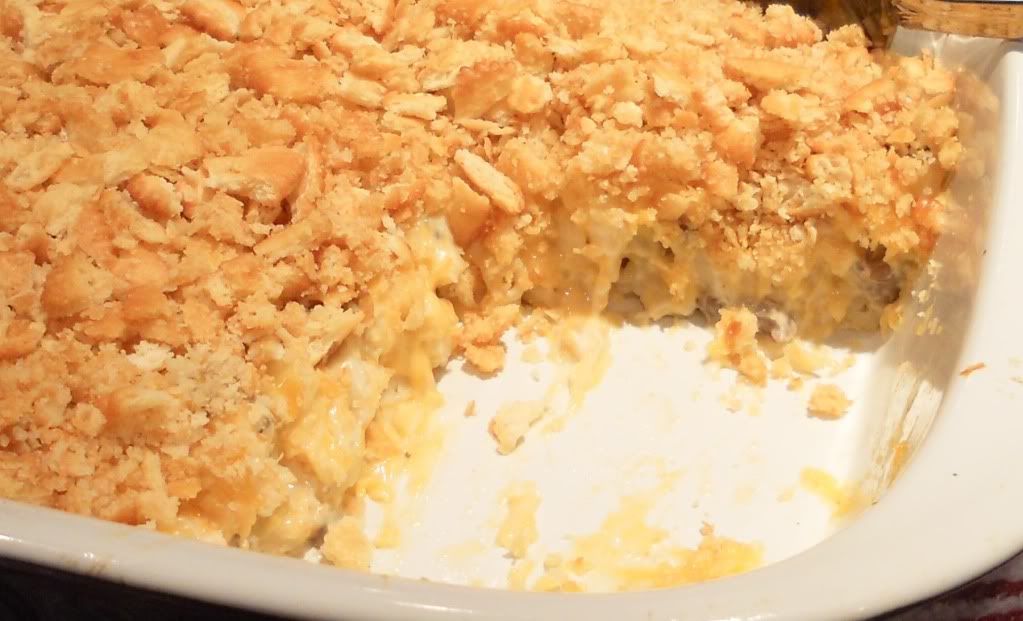 For as long as I can remember, this dish has been synonymous with "home". It got requested before camp, after college, upon my return from a study abroad trip to Southeast Asia, for birthdays and holidays... calling it a family favorite doesn't feel like enough.
It's deliciously rich and creamy with the unusual but subtle addition of mushrooms. The cheese keeps it gooey and the crumbled crackers on top get mixed with butter to make sure you're tasting a little piece of heaven. This is the kind of mac 'n' cheese that rouses you from sleep at 2am for a few forkfuls straight out of the fridge. I've even flown home from the holidays with tupperware containers of leftovers in my carry on bag.
Careful if you try it before Thanksgiving, it will make a compelling case to be added to your Turkey Day menu! Especially since it can be made the day ahead :)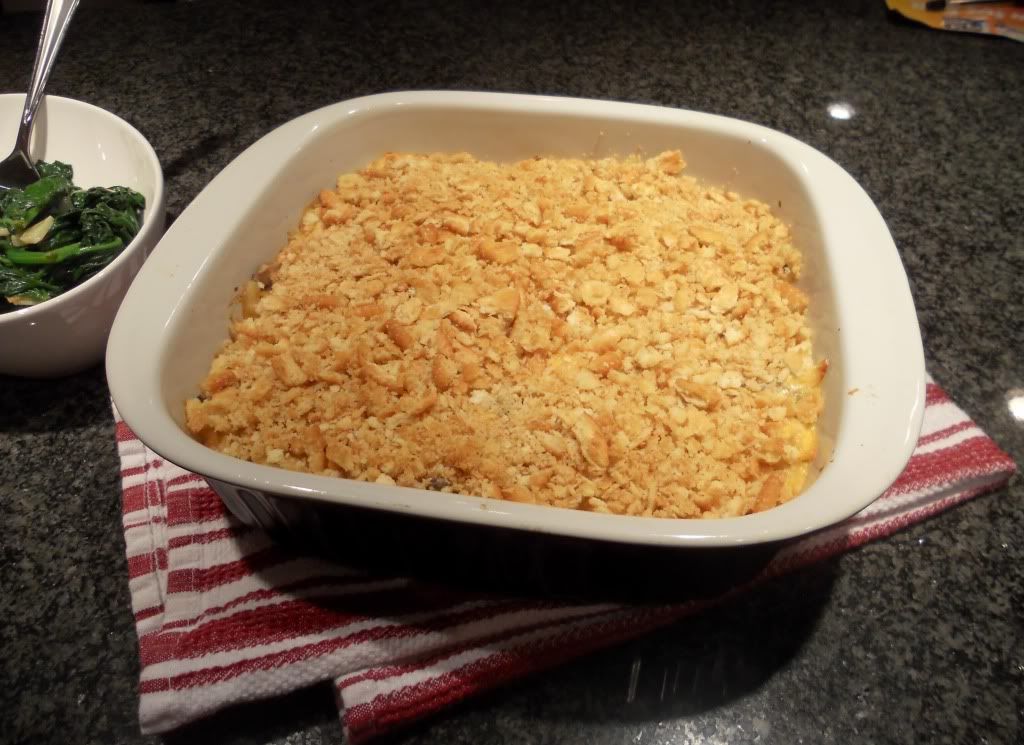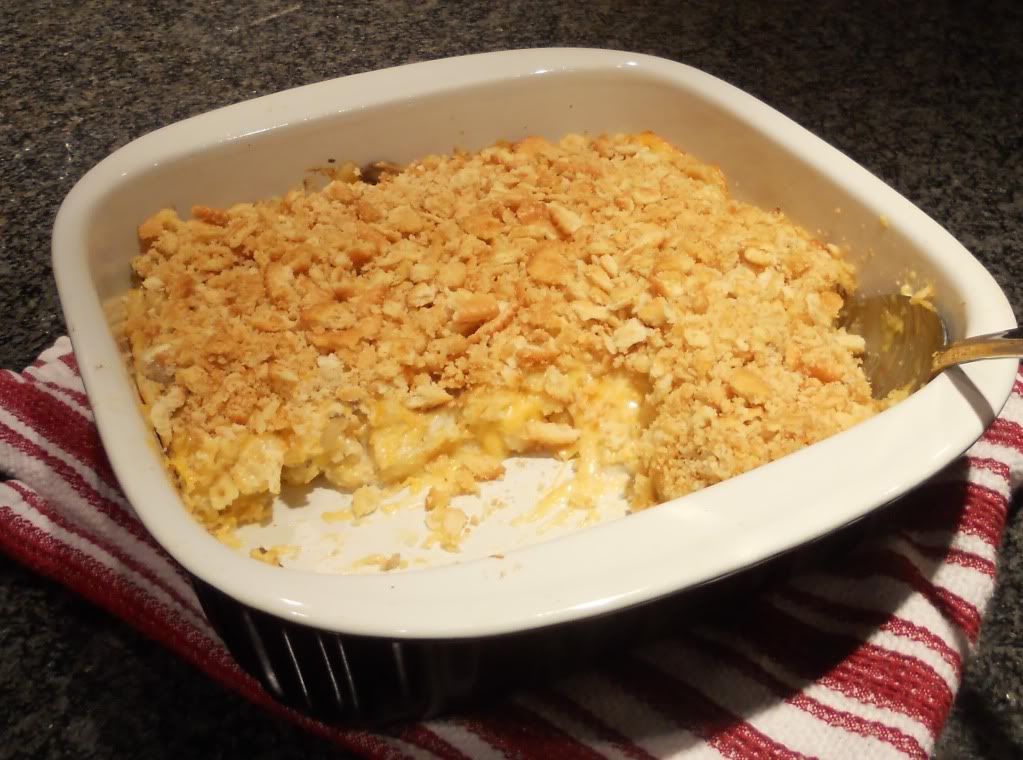 *****
Favorite Homemade Mac & Cheese
1 - 8oz package of elbow macaroni (or
half
a 1 LB box of macaroni)
1 can cream of mushroom soup, undiluted
1 cup light mayo
2 cups (8oz) shredded sharp Cheddar cheese
1 - 4oz can sliced mushrooms, drained
1 sleeve of round buttery crackers, crushed (I use Ritz low sodium)
3 Tbs. butter
Boil a pot of water, cook the macaroni until al dente and drain.
Combine in macaroni, soup and next 3 ingredients in a large bowl. Spoon into a lightly greased 2 qt. casserole.
Combine the crushed crackers and melted butter. Sprinkle evenly over casserole.
Bake at 300 for 30 minutes or till browning on top. Makes 6 - 8 servings.