The base for this meatloaf is ground turkey so you're off to a healthy start. Then you add in zucchini and 2 bell peppers which is quite a lot of veggies for a little meatloaf pan! In my opinion, the secret and unexpected ingredient here is balsamic vinegar. It lends the meatloaf a subtle sweetness that you typically don't associate with meatloaf.
Full disclosure - this recipe doesn't come without some work. The prep can take anywhere from 30-60 minutes depending on how much dilly dallying, wine drinking and chip dipping you're doing. Or how "helpful" your sous chef is. Roy got relieved from kitchen duty when he tried to mince the zucchini.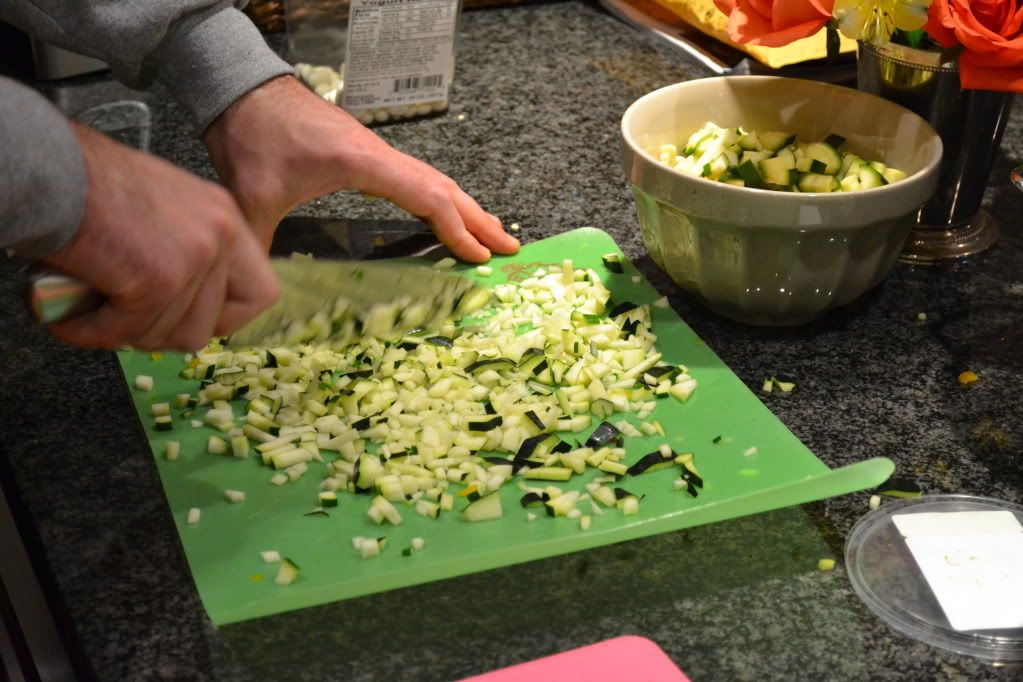 However, Foster very much enjoyed this part and scoured the kitchen for whatever flying leftovers he could find.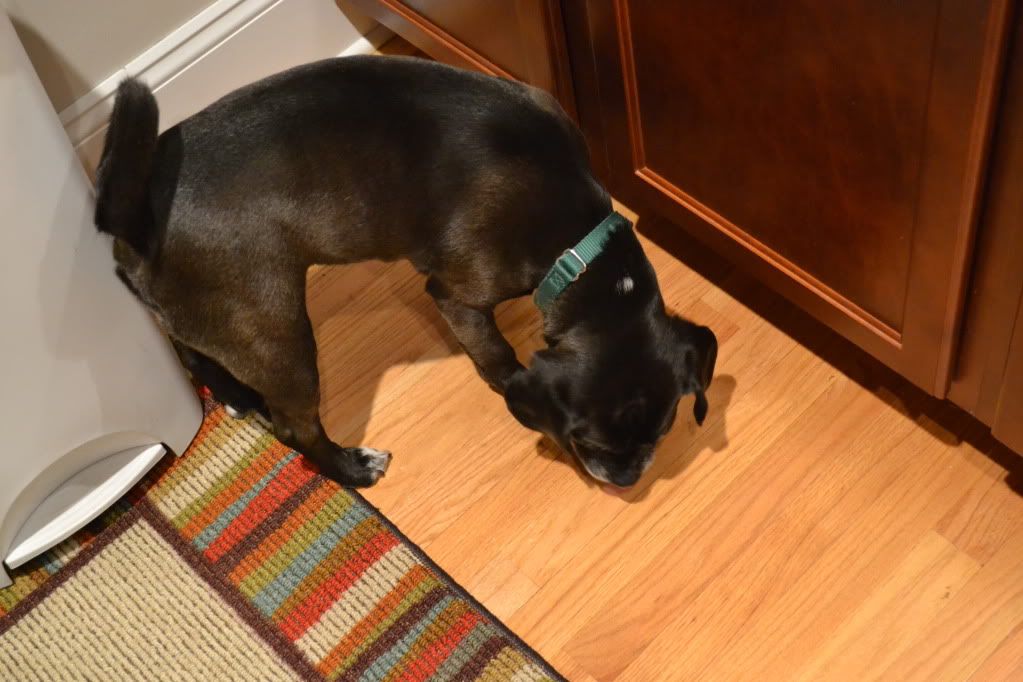 Then it takes 60-75 minutes to bake. But it's
so
worth it. Plus it makes enough for 8 servings so you'll have some good leftovers to work on. It's well worth a bit of time on a Sunday afternoon.
The first time I made this, I made the balsamic glaze for the top of the meatloaf. But I've skipped it every time thereafter. In my opinion, the balsamic stinks up the house when it's baked this way and I don't really care for the baked balsamic/ketchup mix taste. We go low brow with our sauce - plain ketchup all the way! However, I included that with the recipe in case you want to try it that way. But whatever you do, don't skip the balsamic IN the meatloaf. That part is not optional.
Try it with some roasted or mashed potatoes and a salad. You'll lick the plate!
*****
Bobby Flay's Vegetable Meatloaf
8 servings, 30 mins active, 90-105 mins total
2 tablespoons extra-virgin olive oil
1 small zucchini, finely diced
1 red bell pepper, finely diced
1 yellow bell pepper, finely diced
5 cloves garlic, smashed to a paste with coarse salt
1/2 teaspoon red pepper flakes
Kosher salt and freshly ground pepper
1 large egg, lightly beaten
1 tablespoon finely chopped fresh thyme
1/4 cup chopped fresh parsley
1 1/2 pounds ground turkey (90 percent lean)
1 cup panko (coarse Japanese breadcrumbs)
1/2 cup freshly grated Romano or Parmesan cheese
3/4 cup ketchup
1/4 cup plus 2 tablespoons balsamic vinegar
Preheat the oven to 425 degrees. Heat the oil in a large saute pan over high heat. Add the zucchini, bell peppers, garlic paste and 1/4 teaspoon red pepper flakes. Season with salt and pepper and cook until the vegetables are almost soft, about 5 minutes. Set aside to cool.
Whisk the egg and fresh herbs in a large bowl. Add the turkey, panko, grated cheese, 1/2 cup ketchup, 2 tablespoons balsamic vinegar and the cooled vegetables; mix until just combined.
Gently press the mixture into a 9-by-5-inch loaf pan. [Optional: Whisk the remaining 1/4 cup ketchup, 1/4 cup balsamic vinegar and 1/4 teaspoon red pepper flakes in a small bowl; brush the mixture over the entire loaf.]
Bake for 1 to 1 1/4 hours. Let rest for 10 minutes before slicing.
Per serving: Calories 270; Fat 14 g (Sat. 4.2 g; Mono. 6.3 g; Poly. 3.1 g); Cholesterol 104 mg; Sodium 451 mg; Carbohydrate 16 g; Fiber 1 g; Protein 20 g