We got 6 inches of snow last Friday and I decided it was the perfect excuse for some "everything but the kitchen sink" pasta!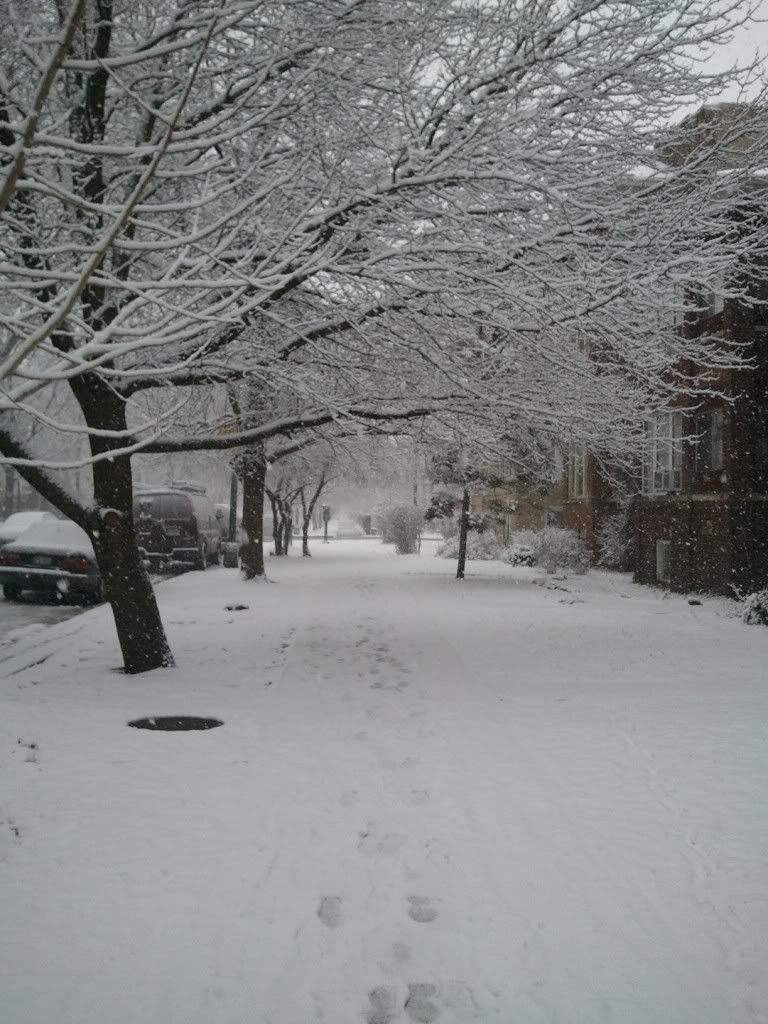 It's one my Mom taught me when I first moved to Chicago. She came out the weekend after I moved and took me shopping to set up my kitchen with cute red pots and pans and baking dishes and groceries. In exchange, Roy and I took her to dinner in boys town on Cinco de Mayo where a VERY inebriated lesbian fell and dry heaved at her flip flopped feet. Ohhhh the different ending that story could have had. Remember that time Mom? It's totally the way you should thank someone you love after they outfit your kitchen :)
Knowing me the way mothers know their daughters, she wanted to make sure to teach me something using my new kitchen goodies to ensure they'd get used in the future. So she taught me this. Because of that, around these parts it goes by "Ma Rob's Tasty Pasta" in addition to "Everything but the Kitchen Sink Pasta".
It's fantastic! A go-to crowd pleaser packed with lots of delicious ingredients like prosciutto, sun dried tomatoes, peas, mushrooms, onions and pine nuts. It's a bit salty and smoky with the prosciutto, the peas and pine nuts lend it some crunch and the mushrooms and sun dried tomatoes give it a subtle earthiness. And it's so flavorful! Try it the next time you want some good comfort food.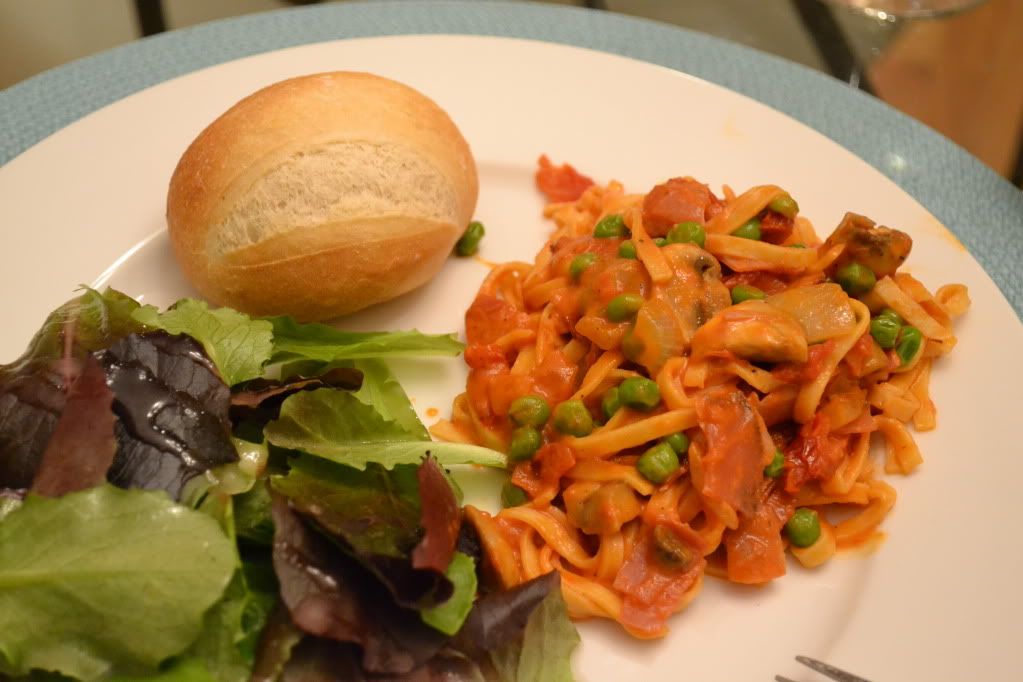 *****
Ma Rob's "Everything but the Kitchen Sink" Pasta
serves 6-8, 40 mins
1 jar Vodka Sauce
1 Tbsp olive oil
6-8 slices of prosciutto, roughly chopped (cutting prosciutto with kitchen scissors is MUCH easier)
1 onion, roughly chopped
2 Tbsp sun dried tomatoes, roughly chopped
1 cup button mushrooms, roughly chopped
1 cup frozen peas
small jar of pine nuts
1 package (9 oz) of fresh linguine
Heat olive oil in a large frying pan over medium heat. Add chopped onions and prosciutto. Cook until onions are soft and translucent and the prosciutto is browned a bit.
Add sun dried tomatoes, mushrooms and peas. Stir and cook for 2-3 more minutes.
Add vodka sauce, turn heat down to low and cover. Add linguine to boiling water and cook until al dente (linguine cooks VERY quickly, in 2-3 minutes).
Reserve a cup of pasta water and then drain the pasta when it's done. Add pasta to the pan and stir to combine with the sauce. If the sauce is too thick, mix in half a cup of the reserved pasta water to thin it out. When you're happy with the sauce, sprinkle pine nuts over and serve.