Phoebe's style of running in Friends
, which coincidentally, is exactly how I think Foster runs when we're at the park).
This is one of my first new year, new rules "helter skelter" posts. It's a link to one of my favorite meals that I posted about last spring, but with an update on timing. I'm reposting this because it's amazing. And if you haven't tried it yet, you should. It's one of my all time family favorites and it's delighted all those who've tried it so far. The mere mention of chowder is all it takes to make my younger brother jealous. And somehow, Seth always finds his way over for dinner when I make this.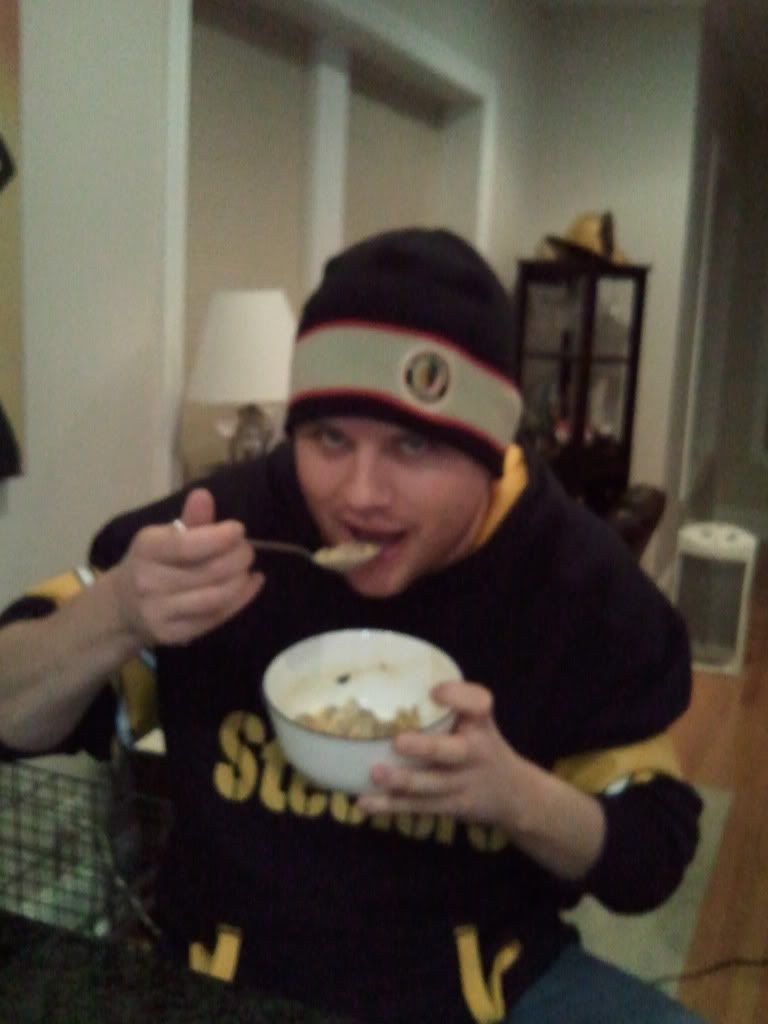 "It's delicious!" -Seth, captured mid-bite by my lovely cell phone cam
As I mentioned in the
original post
, I always make this over the holidays. Some families make Christmas cookies. I make chowder. This year, I made dueling pots and froze a batch to break out later this winter.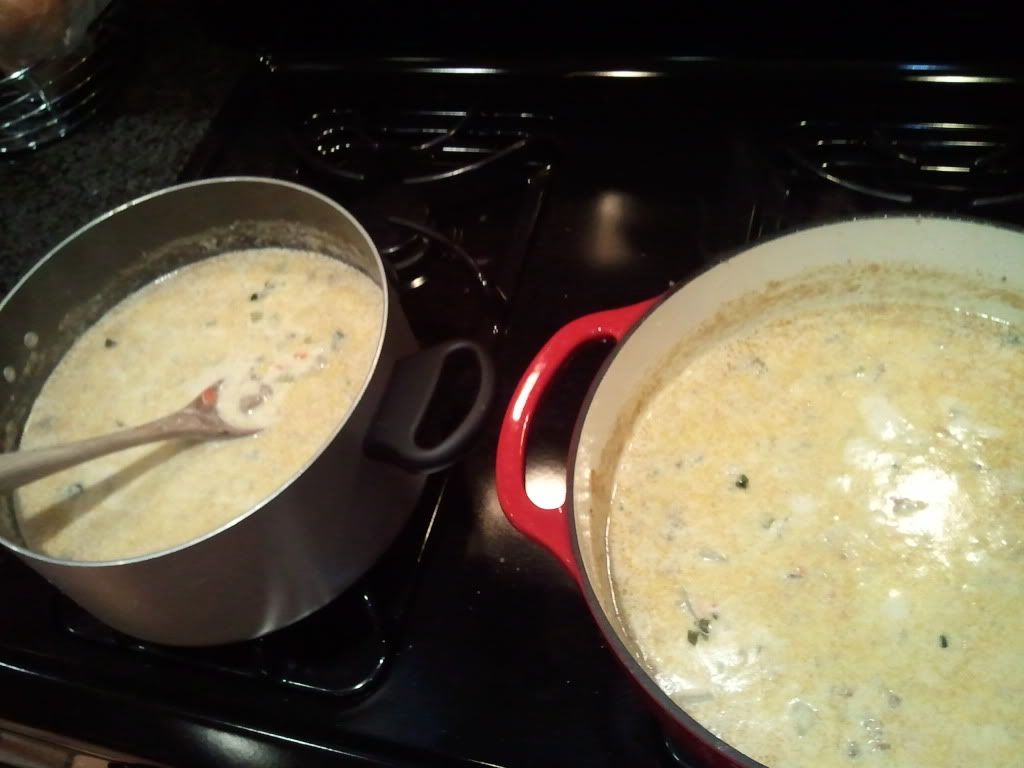 that dark blob in the upper left corner is a bay leaf, I promise!
In making the dueling pots, I realized some of my timing was off in the original post. So I'm reposting the recipe with updated timing.
I also wanted to toss out some of the suggested substitutes you guys made when you tried this in your own kitchen:
For some spice - 1/2 lb chorizo and 1/2 lb Italian sausage
For some "awesomeness" - 1/2 lb mild sausage and 1/2 lb hot sausage
For something a bit lighter - use 1 cup heavy cream, 1 cup half and half, 1 cup whole milk (chowder will be a bit thinner)
*****
Corn and Sausage Chowder
Serves 6-8
90 mins
Ingredients:
1 lb bulk pork sausage (I use mild, feel free to try hot to kick it up a bit)
1/2 c. coarsely chopped onion
1/2 c. coarsely chopped celery
1/2 c. diced red peppers
2 large baking potatoes, peeled and cut into a 1/2 inch dice (4 cups)
1/2 tsp. crushed dried marjoram
1/2 tsp. chopped rosemary
1/2 tsp. chopped basil
1 bay leaf
3 c. water
3 Tbsp chicken base or 3 bouillon cubes
1 - 17 oz can whole kernel corn (do not drain)
1 c. whole milk
2 c. heavy cream
1/2 c. brandy
salt and pepper to taste
For the Roux:
Take 4 Tbsp flour and 4 Tbsp of butter (half a stick) and mix with a fork until pea size balls are formed. When the recipe calls for it add 1/2 the roux at a time.
Directions:
In a large soup pan, brown sausage over high heat and drain the fat.
Add onions, celery and red peppers to the soup pot with the sausage. Saute over high heat (if 1 is low and 7 is high, I go with a 5) until onions are transparent.
Add brandy and let it reduce until it's almost gone.
Add herbs, bay leaf, potatoes, water, chicken base or bouillon cubes, and corn. Let simmer until potatoes are tender (takes me about 15 minutes).
Add milk and heavy cream, bring to a boil.
Reduce heat and thicken to desired consistency with roux (takes 15 minutes to thicken after you add the roux).
Season with salt and pepper, serve with bread.