Sit down. Are you sitting down? You should definitely sit down. Maybe even have a cookie. Don't worry if it's breakfast, it's afternoon snack time somewhere right?
Ok, so you're sitting down. Excellent because this recipe may just blow your mind! It's easily one of the best things I've made all summer. It is beyond easy and is super tasty and flavorful. I saw Giada make it one Saturday morning on TV and have been biding my time until I had a free night to try this.
It's very basic but it's one of those recipes that lets the seasonal ingredients shine. Giada said she used to make this with her aunt who lived in the Ponza region of Italy. Hence "pasta ponza" which may be the least descriptive name for a recipe ever.
The showstoppers are the fresh grape tomatoes. I used some local super sweets that I found at the farmers market. They were juicy and gave the dish a delicious burst of bright summer flavor.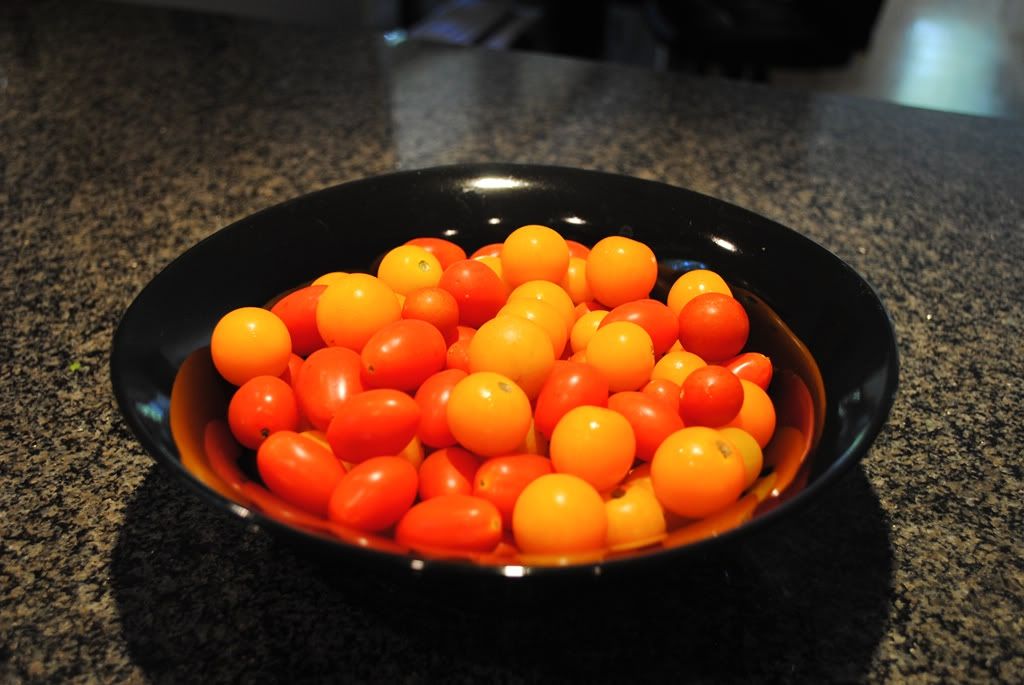 Again, the recipe is deceptively simple. You start by halving and roasting the tomatoes with some capers, olive oil, salt, pepper and a bread crumb topping. I'm not a huge capers person but they added a whole new dimension of flavor. They really complimented the tomatoes and I high fived myself for not nixing them.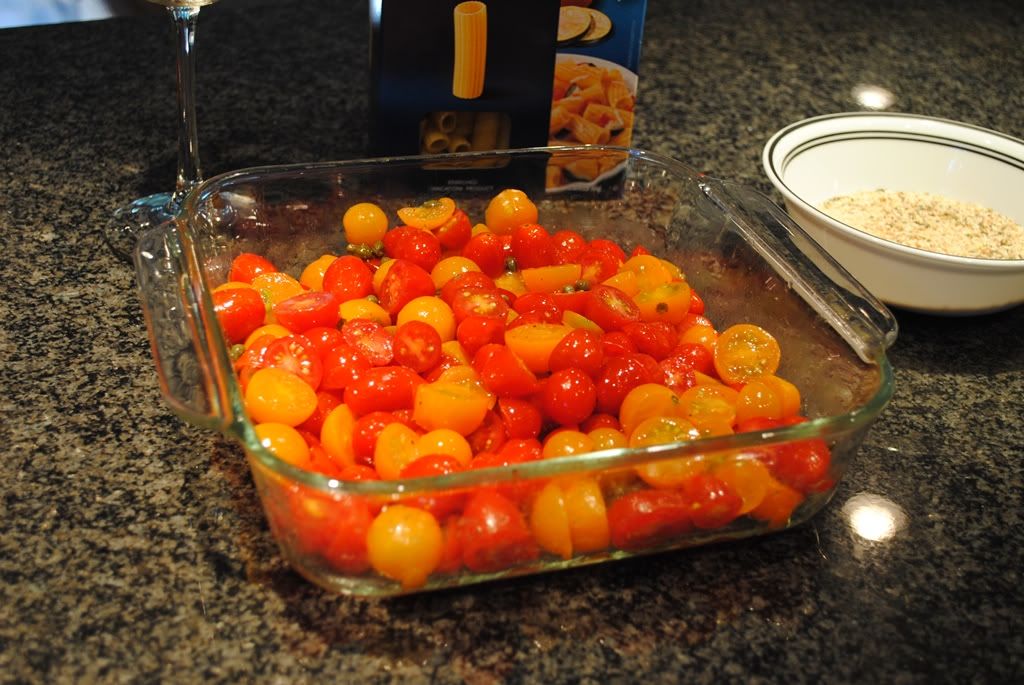 Then mix in some tube shaped pasta, baked breadcrumb topping and some cheese and let it all melt together. This along with a fresh-from-the-oven french roll (with butter of course) may be one of the most perfect meals.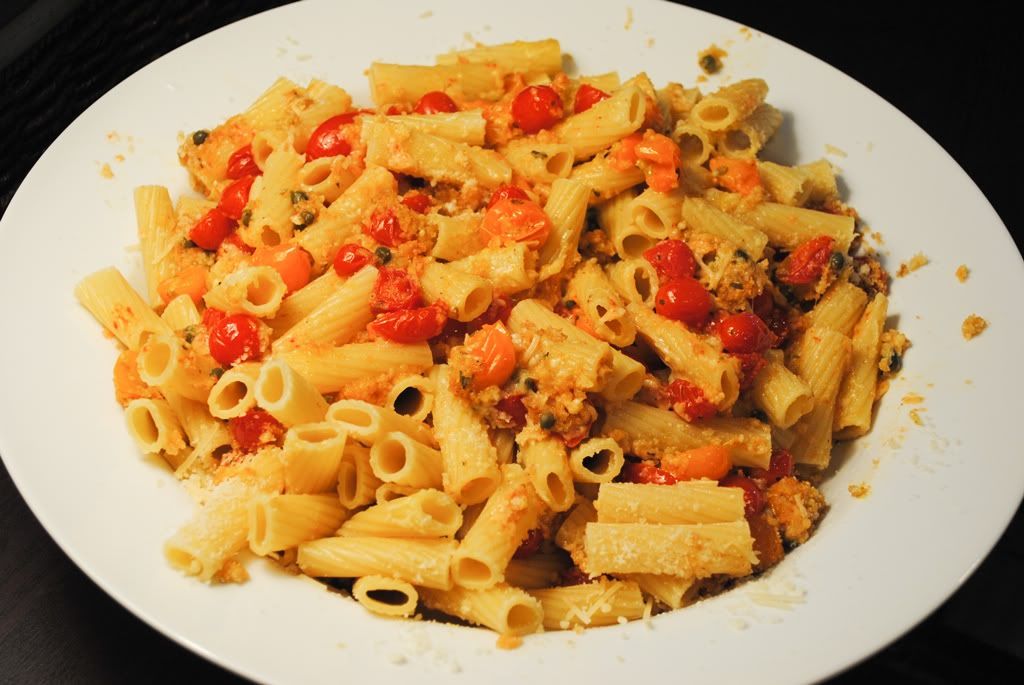 The proportions in Giada's original recipe are
large
. I'm pretty sure I made enough to serve 8-10 people, which makes this an excellent budget meal if you need to feed a crowd. It was so good that that we ate it 4 nights in a row until there were just crumbs left. So either cut the ingredients in half or open a bottle of wine and invite some friends over.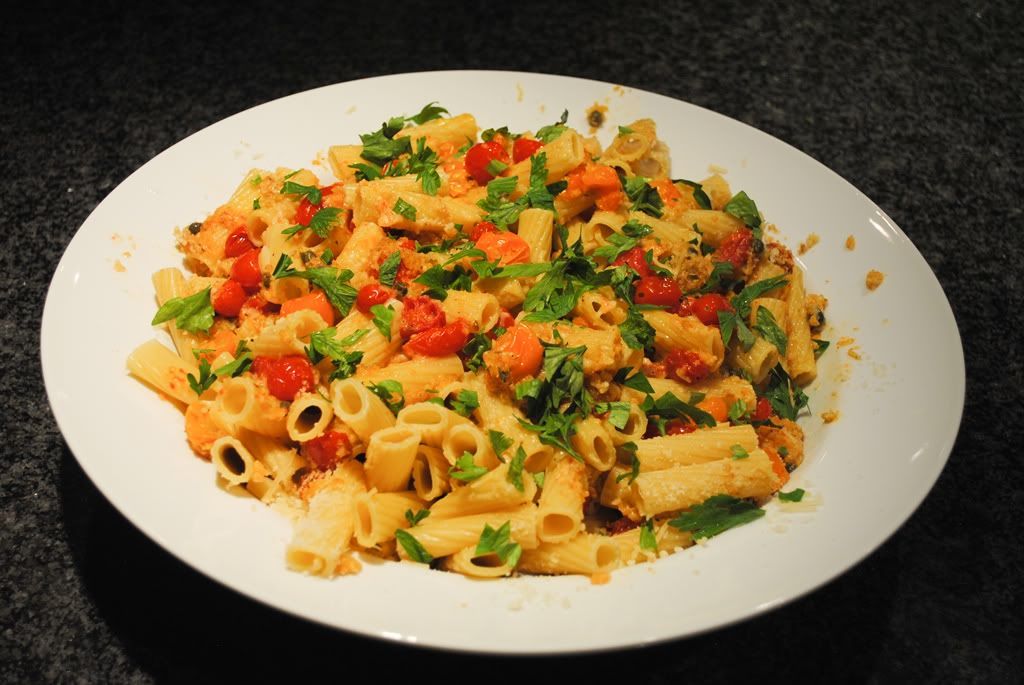 I realized right before dinner that I only had plain breadcrumbs, not the Italian kind Giada calls for. I mixed in some dried oregano and thyme to give it some flavor and it did the trick. Keep it in mind if you find yourself in a pinch.
Happy Eating!
PS: I dare you to make this and not pick at the leftovers. I think it's physically impossible to leave them alone in the fridge.
*****
Pasta Ponza by Giada De Laurentis
Butter for greasing
2 cups (12 ounces) red cherry or grape tomatoes, halved
2 cups (12 ounces) yellow cherry or grape tomatoes, halved
1/4 cup capers, rinsed and drained
1 tablespoon extra-virgin olive oil, plus extra for drizzling
1/2 teaspoon kosher salt, plus extra for seasoning
1/4 teaspoon freshly ground black pepper, plus extra for seasoning
1/2 cup Italian-style seasoned breadcrumbs
1 pound ziti or other short tube-shaped pasta
1 1/4 cups (2 1/2 ounces) Pecorino Romano cheese, grated
1/4 cup chopped fresh flat-leaf parsley
Place an oven rack in the center of the oven. Preheat the oven to 375 degrees F. Butter an 8 by 8-inch glass baking dish and set aside.
Place the tomatoes, capers, 1 tablespoon olive oil, 1/2 teaspoon salt, and 1/4 teaspoon pepper in the prepared baking dish. Toss to coat. Sprinkle the breadcrumbs over the tomato mixture. Drizzle the top with olive oil and bake for 30 to 35 minutes until the top is golden. Cool for 5 minutes.
Bring a large pot of salted water to a boil over high heat. Add the pasta and cook until tender but still firm to the bite, stirring occasionally, about 8 to 10 minutes. Drain and reserve about 1 cup of the pasta water.
Place the pasta in a large serving bowl. Spoon the tomato mixture onto the pasta. Add the cheese and toss well. Thin out the sauce with a little pasta water, if needed. Season with salt and pepper, to taste. Sprinkle with the chopped parsley and serve immediately.