I love bar food.
It's my Saturday guilty pleasure of choice, especially during football season. I try to eat balanced meals and snacks during the week (keyword:
try
). And then I indulge my cravings in spinach and artichoke dip, gluttonous brunch, loaded nachos, fried anything and college football when Saturday rolls around.
Trouble sets in around dinner time. I find myself too stuffed to enjoy even one more loaded cheese fry and my body is preparing to disown me after all the processed food and sodium. I feel like undoing the top button of my jeans and falling asleep at the table.
And that's why I adore this recipe. It blends the best of both worlds - loaded nachos and the wholesome foods that treat me so much better than my favorite bar dishes.
The original recipe came from my Chicago friends Dave and Lindsay (affectionately known as AY in Windy City circles). Roy and I were at their house for dinner when Lindsay introduced us to this amazing find. It's so basic, you'll wonder why you didn't think it up yourself.
Tangent time... it's hard to explain to you just how fun Dave and Lindsay are and how much I enjoyed living in the same city as them. So here's a picture that should help elaborate.
How can people who will do that on their wedding day NOT be fun to hang out with?!? They've been gone for almost 2 years now, but Chicago still misses them dearly.
Over the years I've played with Lindsay's original recipe by adding in peppers and onions. I finally settled on the recipe below that includes diced red, green and yellow peppers.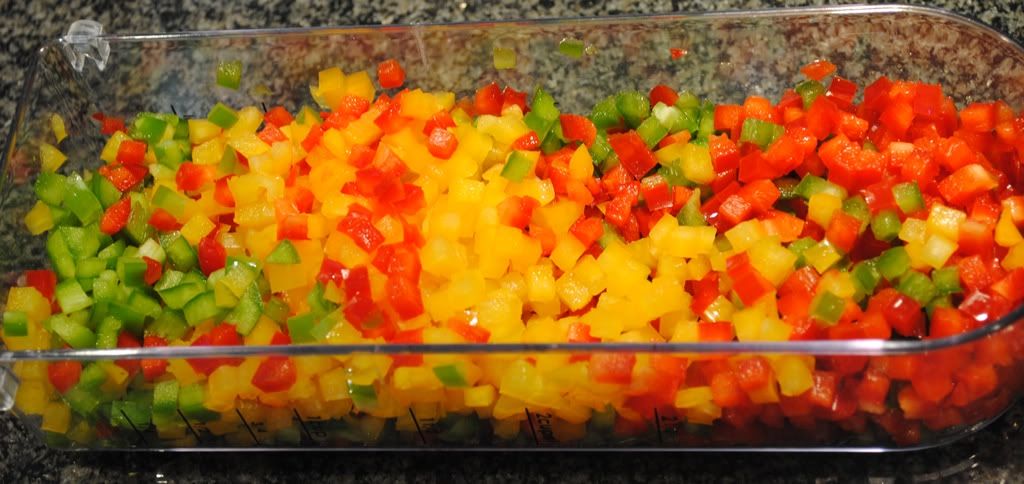 diced bell peppers waiting to be made into nacho goodness
I probably make it every other week during football season, particularly for Monday night games. It can be made ahead of time and it makes enough for leftovers. Plus I feel like I'm enjoying an indulgent treat when in reality, I'm getting protein, veggies, and whole grains which is more than I can say for my bar appetizer bffs. Be cautious not to put too much chicken on one chip. I know it's tempting but you want to maintain a good chip to chicken ratio.
Play around with the your favorite ingredients and work up a combination that's best for you. Check out this article,
"Nachos 50 Ways"
from the Food Network Magazine. You'll get all kinds of good inspiration!
Unfortunately, I can only vouch for the healthy rating if you keep it as is. But don't let that deter you from trying it with buffalo chicken and blue cheese, fresh corn and jalapenos, or mango and pineapple with Monterrey jack cheese. The combinations are endless.
Happy Eating!
*****
BBQ Chicken Nachos
35 mins, serves 4-6
1 package boneless, skinless chicken breasts (around 1.5 lbs)
3 diced bell peppers – red, green and yellow
Shredded cheese (I use cheddar)
1 bag of restaurant style tortilla chips (you want larger chips so they have space to hold the goods)
BBQ sauce (I like
Sweet Baby Ray's original sauce
)
1. Bake the chicken for 20 mins at 400 or until cooked through. While chicken is cooking, dice bell peppers.
Lazy Woman's option: use a pre-cooked rotisserie chicken to save yourself the time of baking the chicken.
2. Slice the chicken breasts into big chunks, place in a food processor or blender and shred until it resembles a pulled bbq meat. You can also pull it apart by hand using forks, but that's a lot of effort and interferes with my ability to simultaneously drink a beer.
3. Place shredded chicken and diced bell peppers into a large bowl and add 1/3 cup of BBQ sauce. Mix well and add more sauce in small increments as necessary. You want it to be well coated and moist but not soggy.
4. Line a baking sheet with aluminum foil. Lay chips in a single layer on the backing sheet and spoon the shredded chicken and bell pepper mixture onto the chips. Sprinkle with shredded cheese.
5. Bake on a rack in the top third of the oven at 300 degrees for 10 min. Just enough to melt the cheese and heat the chicken/bell pepper mixture through.
Again, it's very easy to make this the day before and refrigerate it so you aren't slaving away on game day or a work night. Just stir the mixture up and let it come to room temp first. And only make as many nachos as you think you'll eat. You can't reheat the nachos, but the bbq mix keeps so you can always make more.
*****
Below are the nutrition facts from a
very similar Hungry Girl recipe
. It's not a perfect match. The HG recipe is based on using 1 can of 98% fat free chunk white chicken, 1 cup of fat free cheese, 1/2 cup of bbq sauce with about 45 cal per 2-TBSP serving, and baked tortilla chips. I'm just sharing this to give you a ballpark since the recipes are pretty similar.
229 calories, 3g fat, 875 mg sodium (would assume this goes down if you bake your own boneless skinless chicken breasts instead of using canned chicken), 26g carbs, 125g fiber, 7g sugars, 21g protein