It's an ooold Southern recipe, something that my Mom was making for my Dad before I was even born. It's a family favorite that pops up a lot at the holidays since it's best when made a day or two ahead. Ironically, I wouldn't go near it until this past Christmas. I just recently started to love and eat tomatoes, and despite the fantastic smell, when you're a picky kid it's not the most appetizing looking dish. I have since seen the error of my ways and will never snub my nose at this one again.
My Mom doctored this and increased the sugar that goes with the tomatoes. The original calls for 2 tbsp. With 6 tbsp it's quite sweet which is a wonderful thing for tomatoes to be when served in combination with cheese and squash. If you're unsure, I suggest going with 4 tbsp the first time you make it.
The original recipe called for full fat Velveeta cheese because back then, 2% wasn't really a thing. Now a days, we've officially made the change to 2% and while it's a little bit less rich, it's not really noticeable. Make sure you use a large skillet because as you can see, there's a lot of veggies in this one!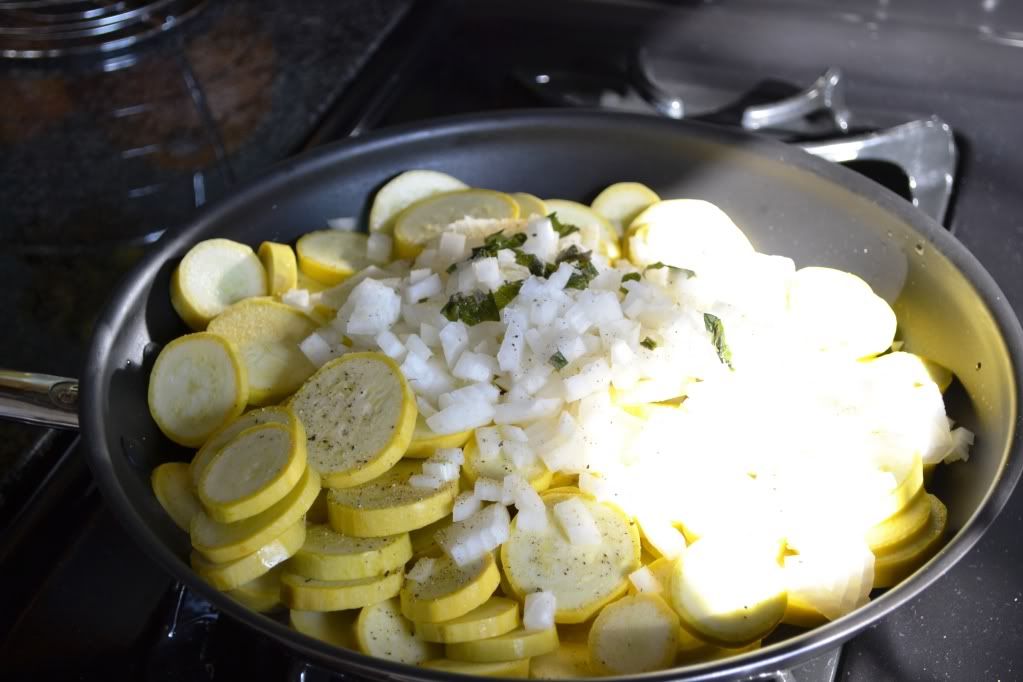 Sauteeing squash, onions and herbs
Squash mixed with melty Velveeta cheese
And finally, topped with diced tomatoes
Because this is better on day 2 and 3, it's the perfect thing to make on a Saturday or Sunday and then eat during the week. I whipped it up on a sunny Saturday while Roy moved the couch back a few feet so the most spoiled dog in the world could nap in a sun spot on the back of the couch.
In case you were wondering who is in charge in these parts, it is most definitely Foster the Monster.
*****
Squash and Tomato Casserole
Serves 6-8, 30 mins active, 60 mins total
12 small yellow squash, sliced
3 tbsp vegetable oil
1 onion, finely minced
pinch of sweet basil
dash of garlic powder
1/8 tsp freshly ground pepper
1 tsp salt
1 8-ounce package 2% Velveeta cheese, cubed
2 16-ounce cans of diced tomatoes, drained
1/4 tsp salt
6 tbsp sugar
Saute squash in a large skillet with oil, onion, basil, garlic powder and pepper. Stir well, cover and simmer until vegetables start to become limp. Remove from heat. Add 1 tsp salt and cubed cheese. Stir until cheese melts. Pour into a 9x13 cooking dish.
In pan used for squash, quickly heat tomatoes, 1/4 tsp salt and sugar. Pour over squash. Bake at 350 degrees for 30 minutes.
Better if made 2-3 days ahead and refrigerated. May be frozen.