pumpkin cookies with chocolate chips and cranberries
and a new recipe for Maple Glazed Chicken.
Despite the fact that this domesticated diva lost all control of time management Sunday, the maple glazed chicken, which has apples, shallots and sage in it, was the perfect way to end the day!
(Unfortunately my issues with time management meant I wasn't getting dinner finished until after 8pm so this post is low on photographs, sorry).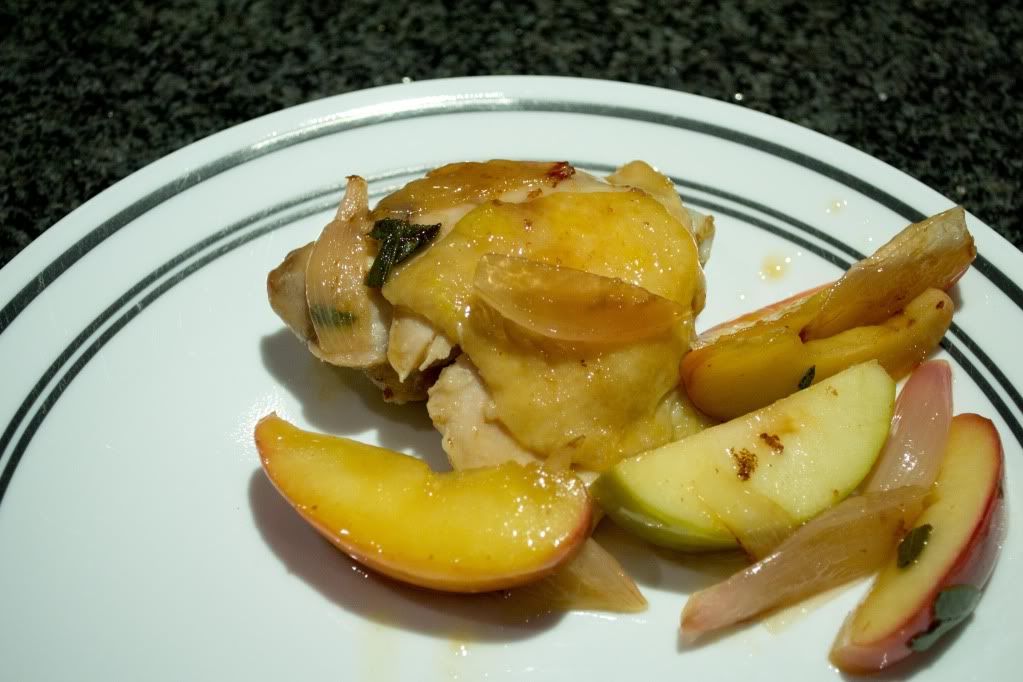 I was nervous about this recipe. It called for chicken thighs and while I eat a lot of chicken, I've never cooked with chicken thighs. And dark meat isn't the Royfriend's favorite so I was planning a last minute reveal on what dinner was. Last minute as in... not pointing out that what we were eating until he was sitting at the table with the food on his plate. I was also worried the maple syrup would be overpowering and the apples would get mushy, especially when I had to double the cooking time to get the chicken fully cooked.
I was so worried I was giving Roy the "you can have a PB&J or scrambled eggs if you don't like it" speech right up until I put the first bite in my mouth.
Turned out I was worried for nothing. This recipe is delicious! The maple syrup meets it's match in the apple cider vinegar and creates a sauce that is well balanced and very flavorful. If you could give fall a flavor, it would be this sauce.
Despite my concerns, the apples stayed crunchy! Paired with the shallots, they offered some nice texture to go with the chicken. I did pull the apples out of the pan when it became obvious that I was going to have to extend my cooking time. That probably helped them keep their form. I threw them back in at the very end to make sure they were heated through.
This got 3 out of 3 stars, I will definitely be making it again! If not with chicken thighs, than as a marinade for boneless, skinless chicken breasts with the apples and shallots on the side. I'd hesitate to make the dish as directed below with boneless, skinless chicken breasts in place of the chicken thighs since one of the reviews implied that it alters the final dish pretty substantially.
*****
Maple Glazed Chicken with Apples, Shallots and Sage
From Food Network Magazine
15 mins prep + 15 mins hands on time
2 pounds skin-on, bone-in chicken breasts, cut into large chunks OR chicken thighs
Kosher salt
2 tablespoons extra-virgin olive oil
2 apples (1 red, 1 green), cored and cut into wedges
8 medium shallots, quartered lengthwise
1/4 cup fresh sage, torn
1/2 cup low-sodium chicken broth
1/4 cup maple syrup
1/4 cup apple cider vinegar
Pat the chicken dry and season all over with salt. Heat a large heavy skillet over high heat and add the olive oil. When the oil is hot, add the chicken skin-side down and cook, undisturbed, until the skin is browned and crisp, about 5 minutes.
Turn the chicken and add the apples, shallots and sage to the skillet. Reduce the heat to medium high and cook until the chicken is browned on the bottom, 4 to 5 minutes. Transfer the chicken to a plate and continue to cook the apples and shallots, stirring, until golden, about 2 more minutes.
Meanwhile, make the glaze: Mix the chicken broth, maple syrup, vinegar and 1/2 teaspoon salt in a small bowl. Add the mixture to the skillet with the apples and shallots and boil until reduced by about three-quarters, 2 to 3 minutes. Return the chicken to the skillet, turning to coat, until cooked through, about 2 more minutes.
Per serving: Calories 553; Fat 24 g (Saturated 6 g); Cholesterol 119 mg; Sodium 373 mg; Carbohydrate 44 g; Fiber 2 g; Protein 42 g