The highlight was the time we spent on San Juan Island. In contrast to our experience at Mt. Rainier, the sun came out and the weather was perfect for exploring the town, eating lunch on a rooftop patio with a beer, and wine tasting ($1 a pour on the honor system, amazing!).
Per some recommendations from a coworker, we stayed at the
Lakedale Resort
, situated a few miles from town on three lakes. It was incredible! A beautiful and welcoming log cabin building puts you instantly at ease, inviting you to sit down and relax like its your own living room and deck. The staff showed off a well stocked pantry for late night snacking (again, honor system). The rooms were gorgeous, each with their own fireplace and a view of the lake. They even offered something called
glamping
(glamorous camping). It was amazingly peaceful and relaxing.
Getting to the point of this post (sorry about all the reminiscing, can you tell I need a vacation??), breakfast the next morning was somewhat magical. I'm sure part of it was eating outside on a chilly fall morning right next to a lake, which is a pretty good departure from my normal routine. But I'm convinced that another part of it was this granola.
It's easily the most flavorful, delicious granola I've ever had. It's a mix of Special K cereal, rolled oats and a ton of nuts and dried fruit. All capped off with a mixture of brown sugar, butter and honey (just think about how good THAT will make your house smell, spoiler alert = it's amazing). The shredded coconut seems like an odd ingredient but gives it a nice sweetness. I absolutely love eating this over sliced bananas with milk like cereal. But this is so good you can eat it plain too, or over yogurt if that's your thing.
What you see below is the hotel's original economy size recipe. I cut it in half the first time I made it but since then I've been making full sized batches twice a year and polishing them off each time (this only takes about 15 minutes to make, plus an hour or so to let everything dry once you pour the mixture over the dried ingredients). I usually give a big freezer-sized bag to my Dad when I see him around the holidays and it takes me about 6 weeks to get through the rest of it with Roy nibbling on it as well (although he doesn't eat it every day like I do). Store it in an airtight container and it will easily last for 2-3 months.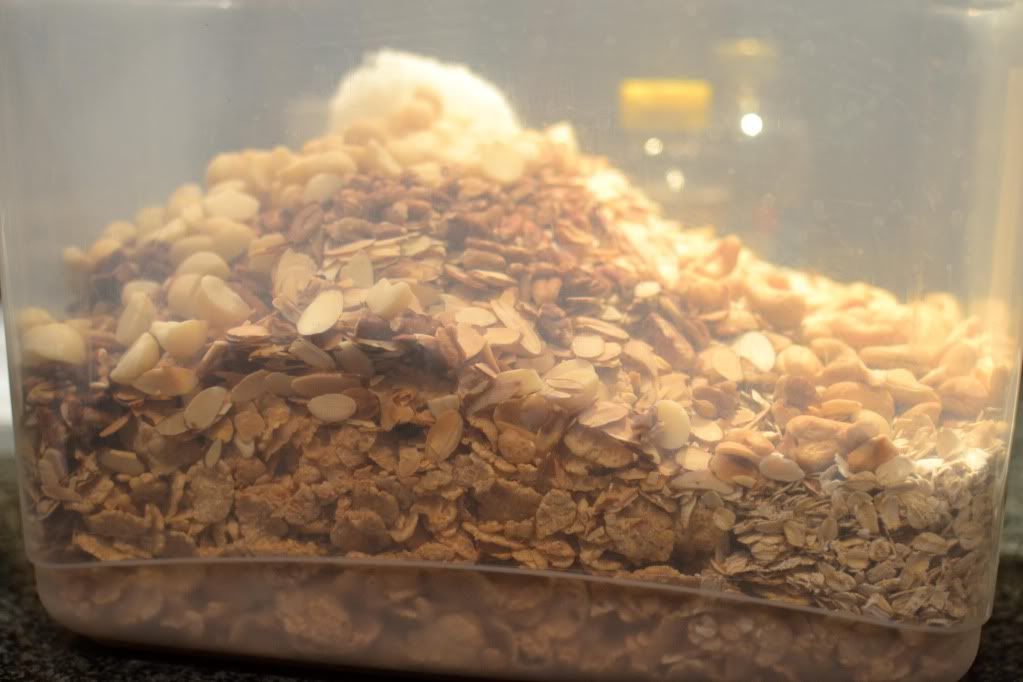 All the dry ingredients, minus the dried fruit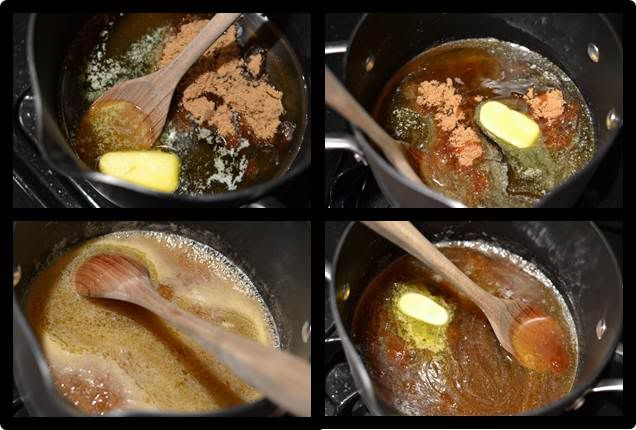 Making the "glue" that holds it all together - brown sugar, honey, butter and corn syrup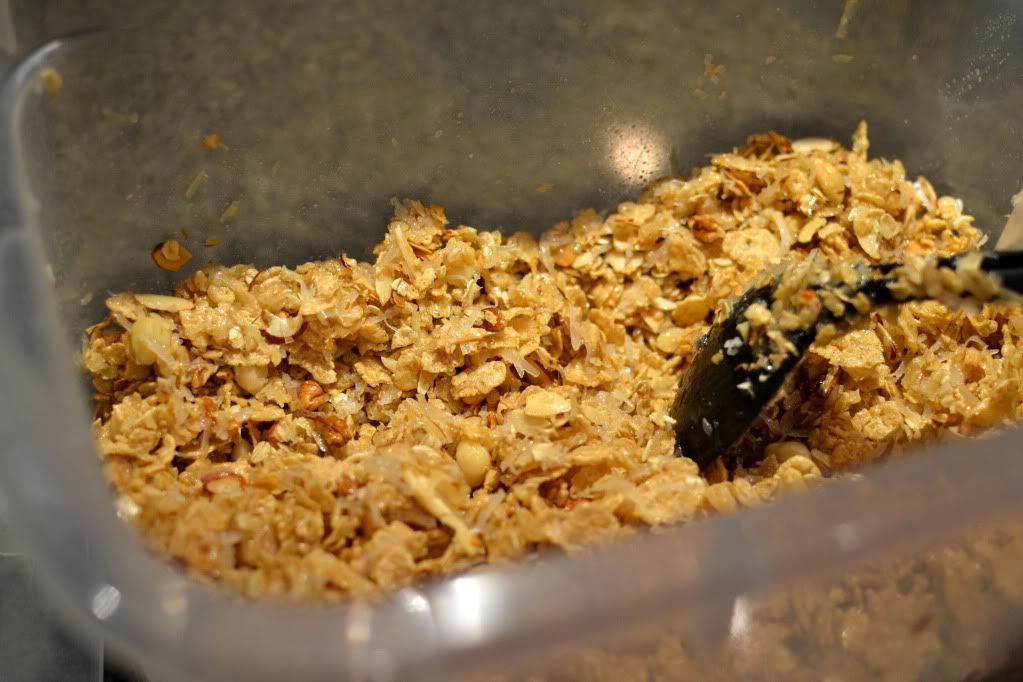 Dry ingredients looking golden with the addition of the liquid mixture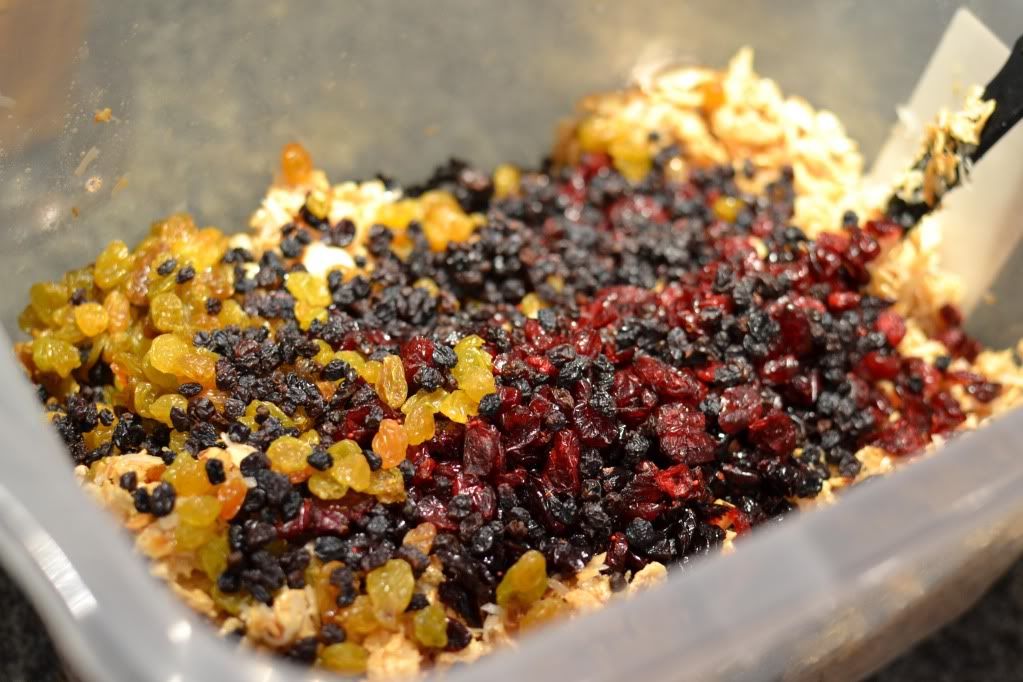 Dried ingredients are completely cooled, adding in the dried fruit
If you're concerned at all about how much it's going to cost you to buy the laundry list of ingredients or you're freaking out about something that includes so much protein by way of the nuts plus a bottle of honey and half a stick of butter... remember how many servings its stretched across. And think about how much you pay for a box of cereal and how fast you go through it. Basically I'm saying that for me it's been easy to rationalize. The ingredients cost me about $43. This time around I used blueberry infused Crasins because they were half the price of dried blueberries. Feel free to switch it up with the dried fruit and use your favorites!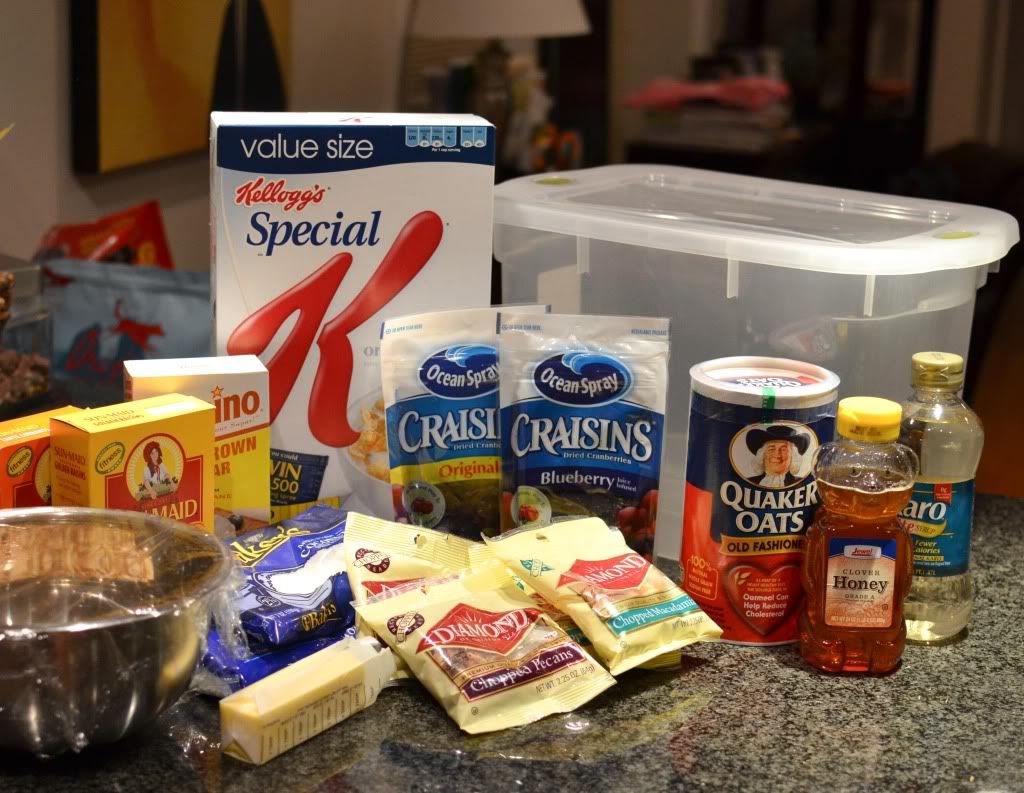 Homemade granola tricks of the trade
If you do decide to make the economy size version of this, I highly recommend you pick up a Rubbermaid container for the mixing. Large pasta pots just don't give you enough space to get in there and get everything coated and mixed. I mix mine in the large container you see in the photos and then store the granola in smaller, more reasonably sized containers. And when I don't need it for granola, the bin stores kebab skewers and grill tools in the closet.
("Duh alert": obviously you should clean the container before and after you make granola)
I love this recipe and hope you guys fall in love with it too. For me, it evokes wonderful memories of vacation and how peaceful and relaxed it all was. It's the perfect way to start my morning.
Enjoy!
*****
Lakedale Granola
15 minutes hands on time
1-2 hours to let the mixture dry and set on the dried ingredients
Serves A LOT
6 oz Brown Sugar
12 oz Honey
1 cup Corn Syrup
4 oz Unsalted Butter
1 LB Special "K" Cereal
8 oz (1 cup) Rolled Oats
1 LB + 4 oz Shredded Coconut
12 oz Sliced Almonds – toasted
4 oz Pecans
4 oz Macadamia Nuts
4 oz Cashews
4 oz Currants
8 oz Dried Cranberries
8 oz Dried blueberries or apples
8 oz Golden Raisins
Place sliced almonds on an ungreased baking sheet in a single layer and bake in a 350 degree oven for 10-15 mins, stirring occasionally.
In a large container - combine all the dry ingredients except the dried fruit (Special K, rolled oats, shredded coconut, toasted sliced almonds, pecans, macadamia nuts and cashews).
Bring to a boil the first four ingredients, making sure that the sugar crystals are dissolved. Pour over all the dry ingredients (except the dried fruit). When cooled completely, mix in the dried fruit.
Ingredients for a Half Batch
3 oz Brown Sugar
6 oz Honey
1/2 cup Corn Syrup
2 oz Unsalted Butter
1/2 LB Special "K" Cereal
4 oz (1/2 cup) Rolled Oats
10 oz Shredded Coconut
16 oz Sliced Almonds – toasted
2 oz Pecans
2 oz Macadamia Nuts
2 oz Cashews
2 oz Currants
4 oz Dried Cranberries
4 oz Dried blueberries or apples
4 oz Golden Raisins
Follow the same steps as above.