highly
recommend you give this a try. It's a nice alternative for people who like pumpkin, but not the texture of pumpkin pie.
The Royfriend's sister gets all the credit for this recipe. A few years back I celebrated my birthday with an all day football and beer extravaganza that started at the VT bar in Chicago, progressed onto my favorite Cubs haunt and then wound thru Lincoln Park. It was a great day with lots of friends and a Hokie win to boot! Christine surprised me by bringing this cake to the bar.
First of all... homemade cake at my favorite bar that typically just serves beer and hot dogs? Yes please!! Add in pumpkin and cream cheese? We were all smitten. The good folks at Murphy's Bleachers handed us a way-too-big knife along with some plates and let us have our cake and eat it too.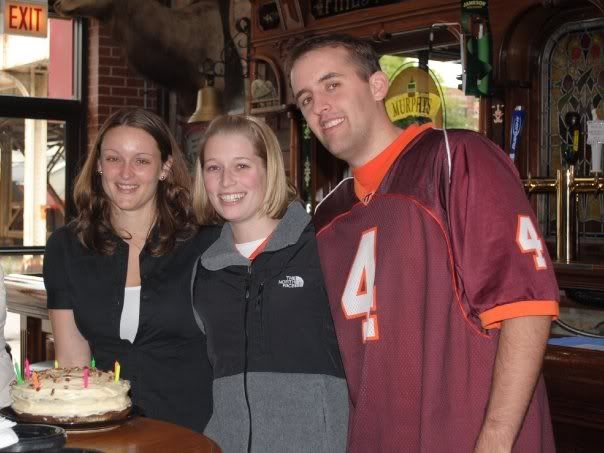 The cake was immediately elevated to rockstar status and has been making appearances at Roy's family gatherings and holidays ever since. Including Thanksgiving and my birthday earlier this fall, although thankfully, Christine made it a single layer cake due to the unusual parade of baked goods that had been through my house.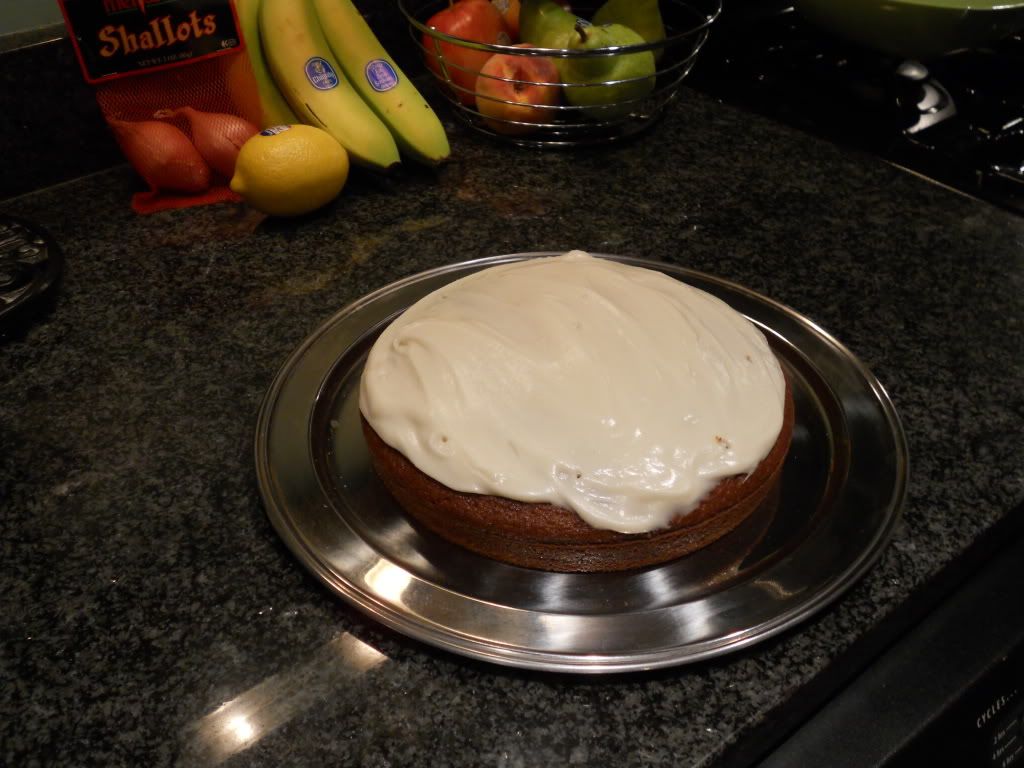 Unfortunately I don't have any pictures that portray how mouthwatering this cake is because I ran out of time to make it myself this fall. I'll try to snap some when Christine makes it this week for Thanksgiving. But take my word for it, this is worth your time!
Technically it's a "from scratch" cake but it's about as easy as making things from scratch gets. No mixer or beating of eggs and butter is required. The actual cake appears dense but is very moist and lighter than you'd imagine. It's similar to carrot cake in that the pumpkin flavoring is present, but not overpowering. You'll see that the recipe includes decorating the frosted cake with pecans but that's optional. I also have it on good authority that this makes a delicious start to your day as a cousin of the breakfast bread ;)

Enjoy!
*****
2 cups sugar
1 cup vegetable oil
4 large eggs
2 cups all-purpose flour
2 teaspoons baking soda
2 teaspoons ground cinnamon
1/2 teaspoon ground ginger
1 teaspoon baking powder
1/2 teaspoon salt
2 cups pumpkin puree or cooked mashed pumpkin
Cream Cheese frosting (see below)
Pecans (optional)
Combine sugar, vegetable oil, and eggs in a large mixing bowl; mix well. Sift dry ingredients into a separate bowl; stir into oil mixture, beating well. Stir in pumpkin puree.

Pour batter into two greased and floured 9-inch round layer cake pans. Bake at 350° for 35 to 40 minutes. Turn out onto racks to cool. Frost pumpkin cake with cream cheese frosting and sprinkle with chopped pecans

Cream Cheese Frosting: Combine 1/4 cup butter, 1 package (8 ounces) cream cheese, room temperature, 1 pound confectioners' sugar, sifted, and 2 teaspoons vanilla extract in a large mixing bowl; beat well until smooth. Makes enough for 2-layer pumpkin cake.