...and lemon dessert related.
Bonus points if they happen to be in the same dish, like this recipe for lemon and blueberry yogurt bread that I found on Pintrest. I love the combination of flavors - the tartness of the berries, the sweetness of the lemon zest. The recipe also seemed really easy (like this
Cooking Light Chocolate Chip Pumpkin Bread
) using ingredients I had on hand.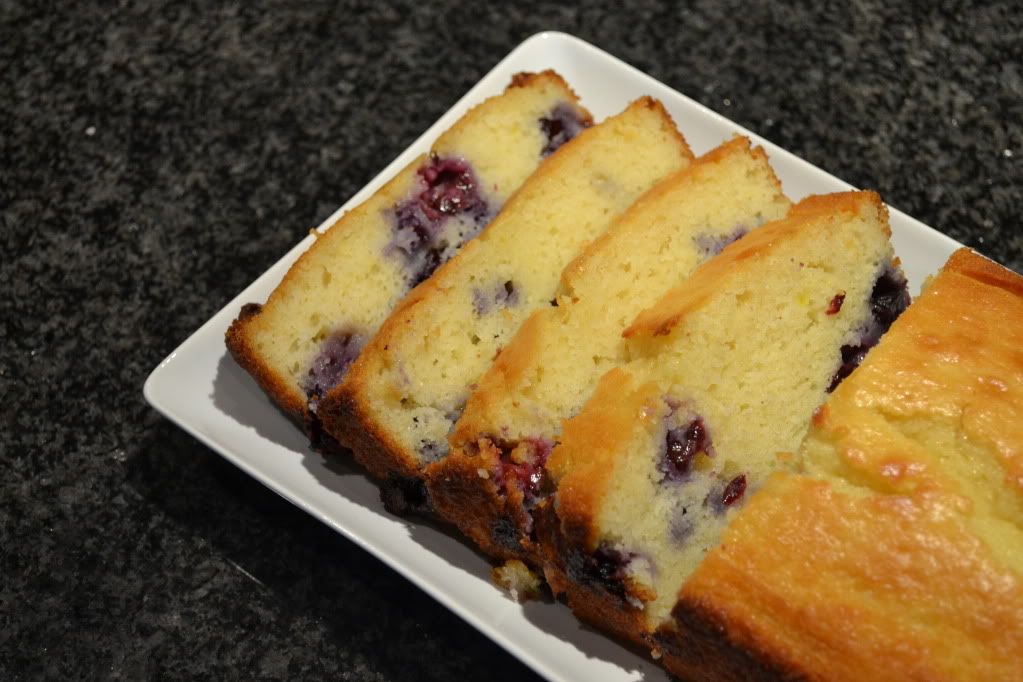 As expected, it was very easy to put together! And it was so hard to sit still and let it cool like the blogger said it would be. But it was worth the wait.
I've never baked a bread with yogurt before and it was an amazing addition! The bread turned out super moist and dense, almost like a moist pound cake. Only with less of the bad stuff, and more of the better stuff, like non-fat yogurt. This came out of the oven at 12:30 on a Sunday afternoon and by 3pm, half the loaf of bread had mysteriously disappeared. Pretty impressive considering Roy doesn't really like blueberries and would prefer non-lemon flavored desserts.
Despite coating the blueberries in flour, they still sank once they hit the batter and most of them ended up on the bottom, as you can see from photos. Regardless, it was wonderful!
This is a great choice if you're hosting family or friends for brunch and it would be a fantastic hostess gift.
*****
Lemon-Blueberry Yogurt Bread
Adapted from
Smitten Kitchen
who adapted it from
Ina Garten
20 mins active, 70 mins total
Makes 24 skinny slices or 12 regular slices
1 1/2 cups + 1 tablespoon all-purpose flour
2 teaspoons baking powder
1/2 teaspoon kosher salt
1 cup vanilla yogurt
3/4 cup sugar
3 extra-large eggs
2 teaspoons grated lemon zest (approximately 2 lemons)
1/2 cup vegetable oil
1/4 teaspoon vanilla extract
1 cup blueberries
Preheat the oven to 350°F. Grease and flour a 9x5 loaf pan. Line the bottom with parchment paper.
Sift together 1 1/2 cups flour, baking powder, and salt into 1 bowl.
In another bowl, whisk together the yogurt, sugar, the eggs, lemon zest, vanilla and oil.
Slowly whisk the dry ingredients into the wet ingredients.
Mix the blueberries with the remaining tablespoon of flour, and fold them very gently into the batter.
Pour the batter into the prepared pan and bake for about 50 (+) minutes, or until a cake tester placed in the center of the loaf comes out clean.
When the cake is done, allow it to cool in the pan for 10 minutes before flipping out onto a cooling rack. Carefully place on a baking rack and allow to cool.