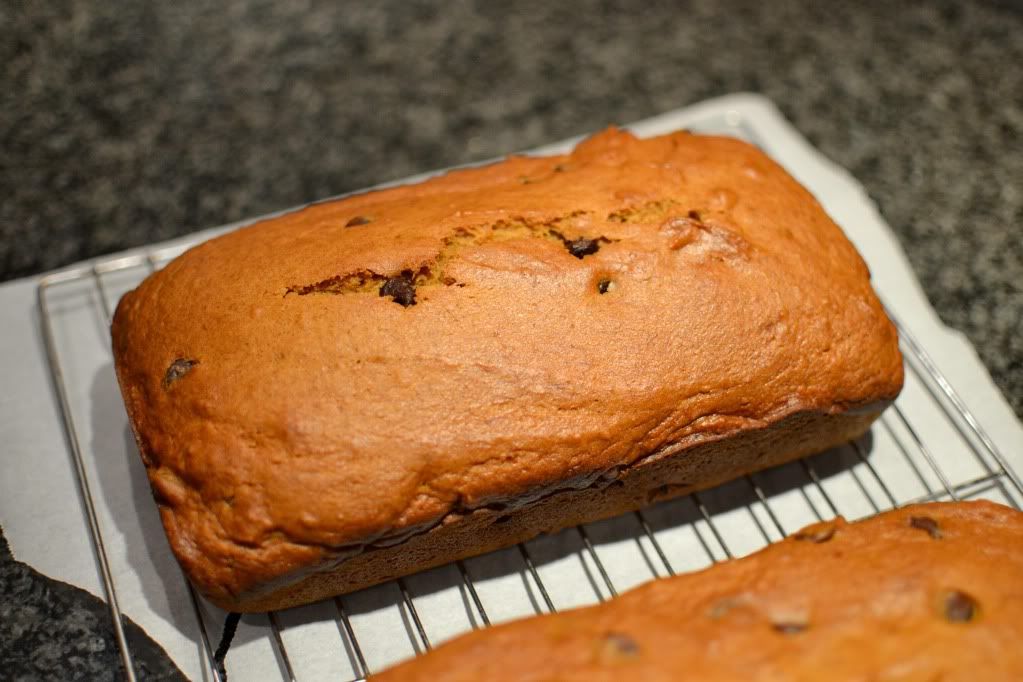 I stumbled on this recipe last fall and was instantly intrigued. A
Cooking Light
recipe with pudding, pumpkin, and chocolate chips? You had me at pudding!
I was really impressed at how easy it was to make and how well the flavors came together and complimented each other. The cinnamon gives it a bit of spice and the chocolate and pumpkin provide some sweetness. The outside gets a little bit crunchy when it bakes but the pudding keeps the inside moist. It tastes so rich and indulgent that I'm still a bit shocked that this comes from Cooking Light (nutrition info at the bottom of the post).
Shockingly, it was actually a bit too rich for my tastes. So in the version below I cut the chocolate chips in half and I much prefer that version. Warm it up, add a little butter and a cup of tea or coffee... it's perfect on a chilly fall morning!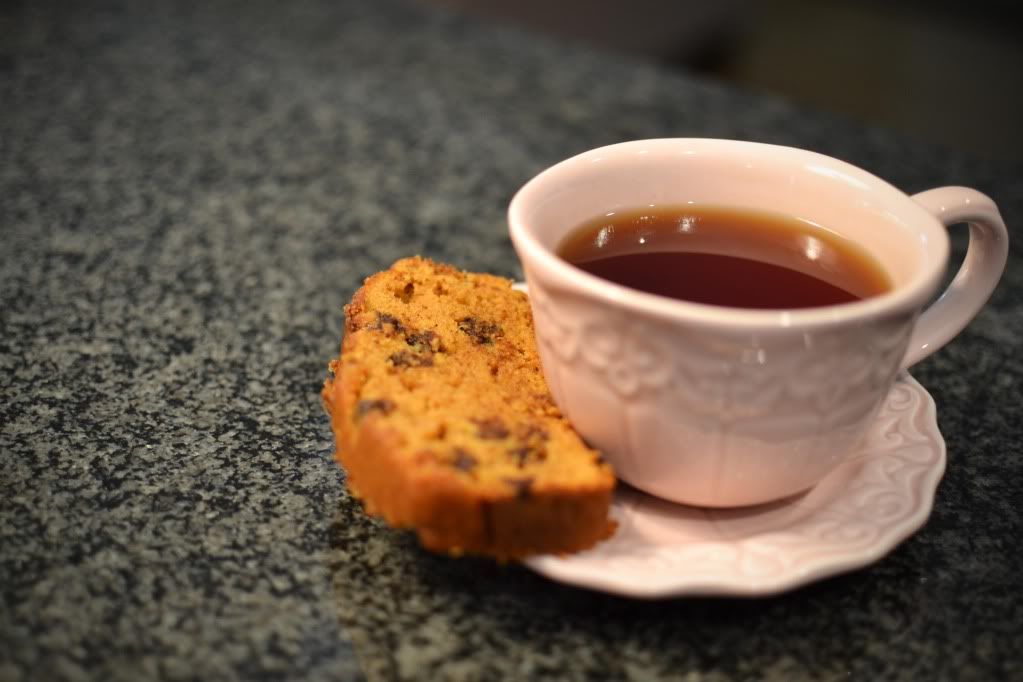 A tip about the chocolate chips... coat them with a little bit of flour before adding to the batter. This helps them stay in place when you pour the batter into the pan instead of sinking to the bottom. Just toss them in a ziploc bag and add 2 big spoonfuls of flour.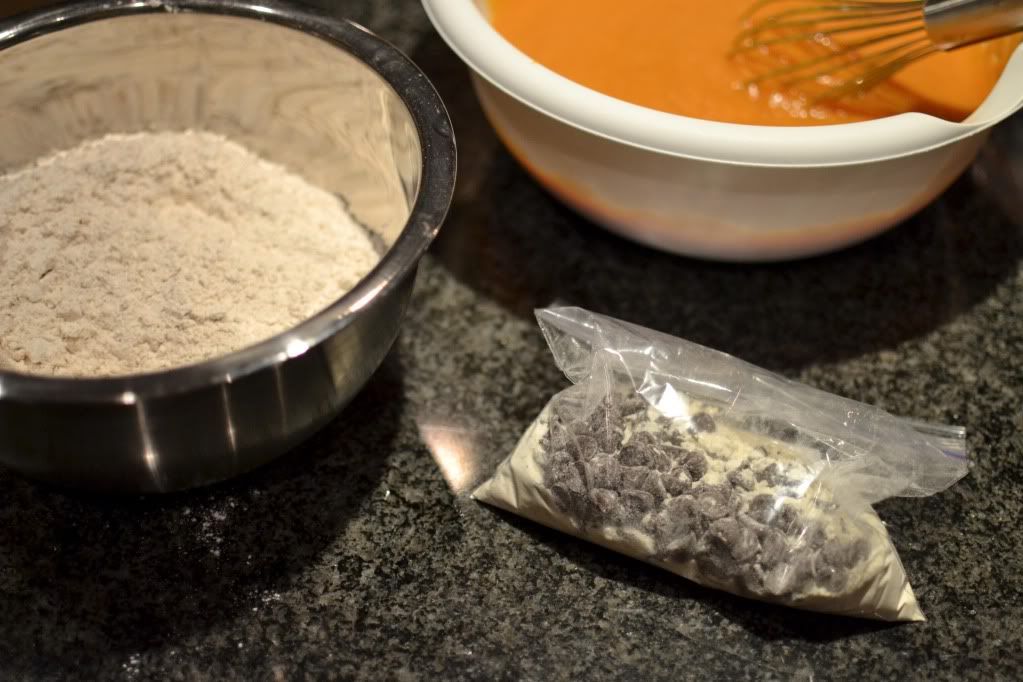 Then pour into a colander or mesh sieve and shake until the excess flour falls away. The chips will look dusty gray, they won't be completely white.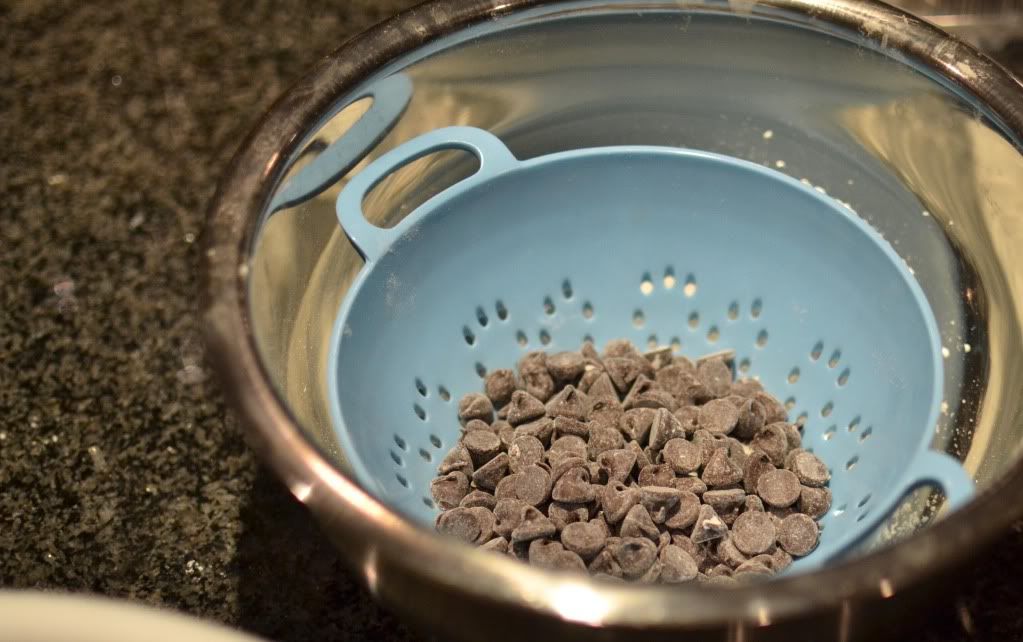 You'll note that you need 2 cups of canned pumpkin, which is about 1/8 of a cup more than you get in a 15 ounce can. You also need 1/2 cup of fat-free vanilla pudding which is only a smidge more than you get in a single-serve Jello cup. If you find yourself in a time crunch, just use 1 can of pumpkin and 1 single-serve Jello cup. Although I haven't tried it this way, several reviewers said it was great.
Since most of us don't need 2 loaves of pumpkin bread floating around the house, I suggest sharing one with a friend or wrapping it tightly in plastic wrap and freezing it for a few months.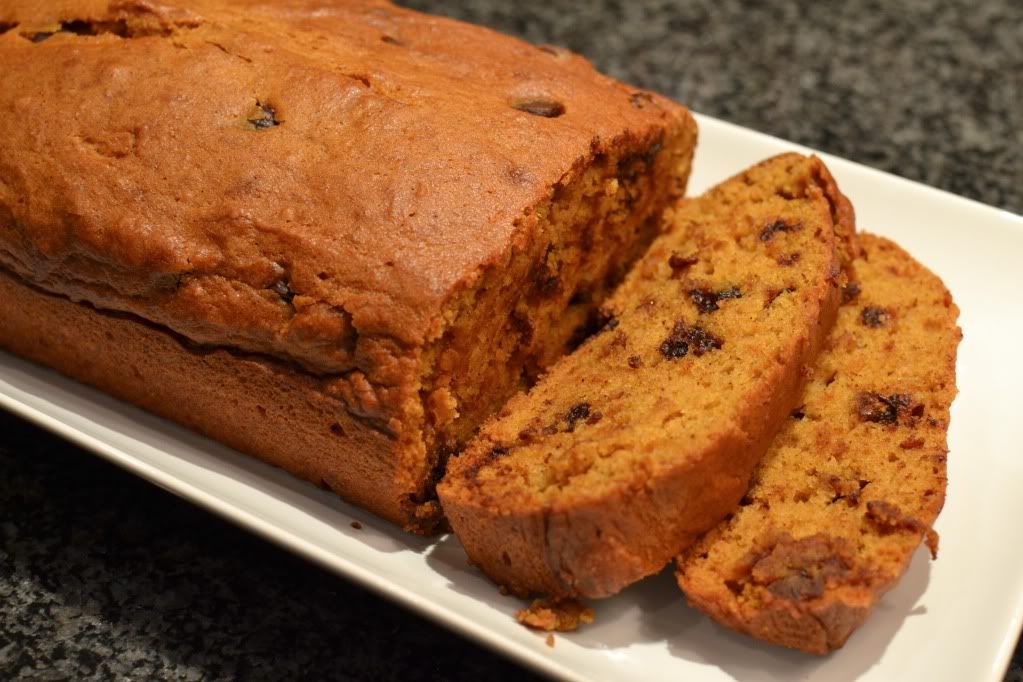 Enjoy and stock up on pumpkin while you're at the store! I'll be sharing a few more pumpkin recipes between now and Thanksgiving so we can all get our pumpkin fix before we're on to Christmas cookies and egg nog!
*****
Chocolate Chip Pumpkin Bread
Adapted from Cooking Light
Makes 2 loaves (32 servings)
2 cups sugar
2 cups canned pumpkin (a little more than 1 can)
1/2 cup canola oil
1/2 cup fat-free vanilla pudding (about a single serve pudding cup)
4 large egg whites
3 cups all-purpose flour
2 teaspoons ground cinnamon
1 1/4 teaspoons salt
1 teaspoon baking soda
1/2 cup semisweet chocolate chips
Cooking spray
Preheat oven to 350°.
Put chocolate chips in a ziploc baggie, coat with flour and pour into a colander or mesh sieve and shake to remove excess flour. Set aside.
Combine first 5 ingredients in a large bowl, stirring well with a whisk.
Lightly spoon flour into dry measuring cups; level with a knife. Combine flour, cinnamon, salt, and baking soda in a medium bowl, stirring well with a whisk.
Add flour mixture to pumpkin mixture, stirring just until moist. Stir in chocolate chips.
Spoon batter into 2 (8 x 4-inch) loaf pans coated with cooking spray. Bake at 350° for 1 hour and 15 minutes or until a wooden pick inserted in the center comes out clean. Cool 10 minutes in pans on a wire rack, and remove from pans. Cool completely on wire rack.
Amount per serving:
Calories: 152, Calories from fat: 30%, Fat: 5g, Saturated fat: 1.2g, Monounsaturated fat: 2.5g, Polyunsaturated fat: 1.1g, Protein: 2g, Carbohydrate: 26.5g, Fiber: 1.1g, Cholesterol: 0.0mg, Iron: 1mg, Sodium: 137mg, Calcium: 10mg