"hello lover"
? If not, use
this
for a quick refresh. Because these chocolate cakes? These are my Manolo Blahniks.
These are the star of my "hello lover" moment.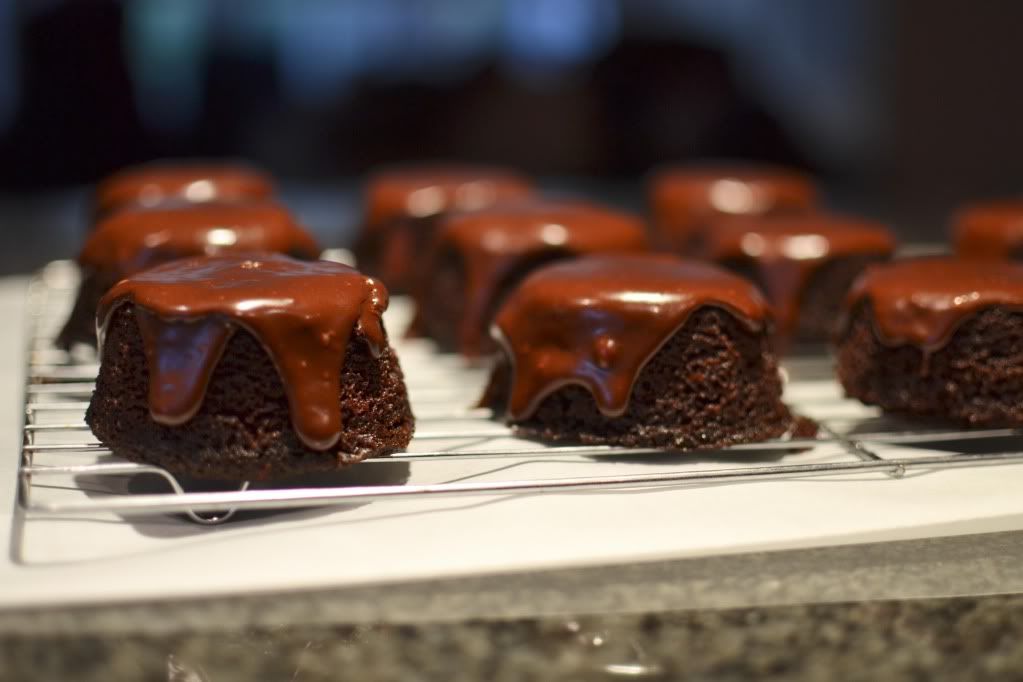 These cakes are a feast for your senses. They smell wonderful, like a bakery set up shop in your kitchen. The texture of the cakes is super moist and they fall apart if you try to pick one up with your hands. They taste like a cross between a chocolate dessert and a Hostess cupcake... not too sweet, and not too rich... just delicious. And the homemade frosting beats the pants off anything you've ever tasted in a can from the grocery store! It hardens a little bit on the outside but stays gooey on the inside.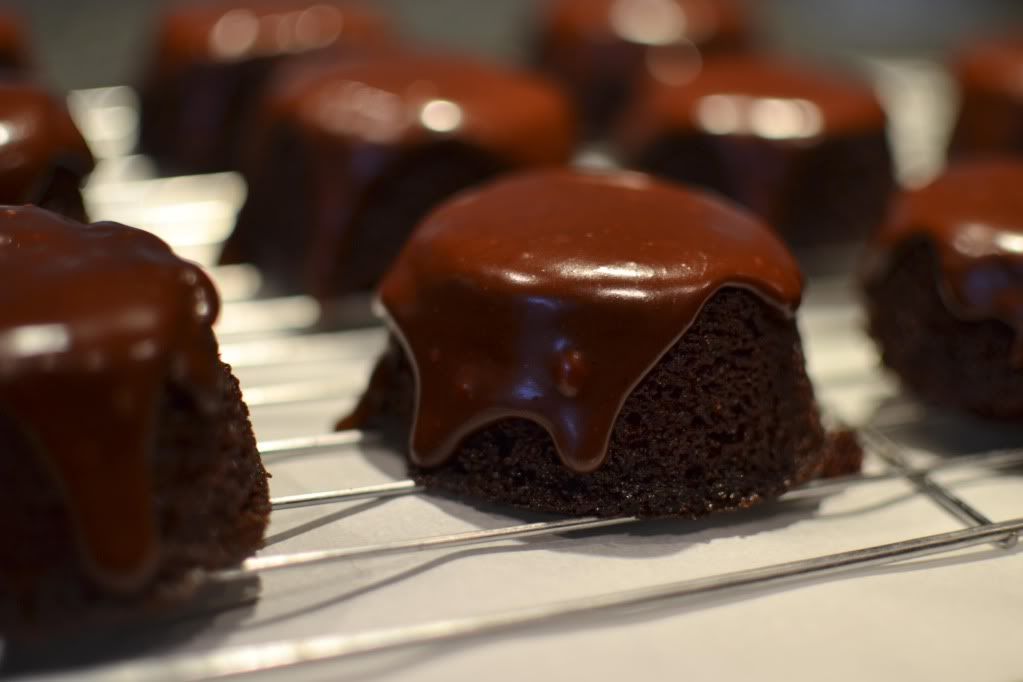 I rarely make baked goods from scratch but this was completely worth it. And it was surprisingly easy! I got the recipe from (are you ready for a surprise??)
Kylie
. She was the one who originally inverted what I'm now calling the
"Hello Lover" cakes
. There was a minor issue with cupcake liners and cakes getting stuck inside and coming out mangled. So she flipped them over and drizzled the icing on top. I actually think it's really elegant so I mimicked it when I made mine for book club (we read
The Story of Edgar Sawtelle
in case you're wondering). And I used a lot of PAM spray to make sure they didn't stick.
Kylie also suggested using a good quality cocoa powder so I made sure to pick up some Ghirardelli instead of Hershey's. I would agree with her that it gives you a really smooth chocolate flavor. She also suggested using whole milk and since we all know that whole milk and cream make everything better, I took her advice :)
I will definitely be making these again! Next time I think I'll try a bit less powdered sugar and a bit more milk to thin the icing out. Mine came out a bit thick so it didn't spread very well over the top of the cakes. I would HIGHLY recommend these the next time you need a show stopper dessert. Or the next time you're looking for a chocolate fix :) This recipe couldn't be any easier and the personal size cakes are elegant and fun for a group!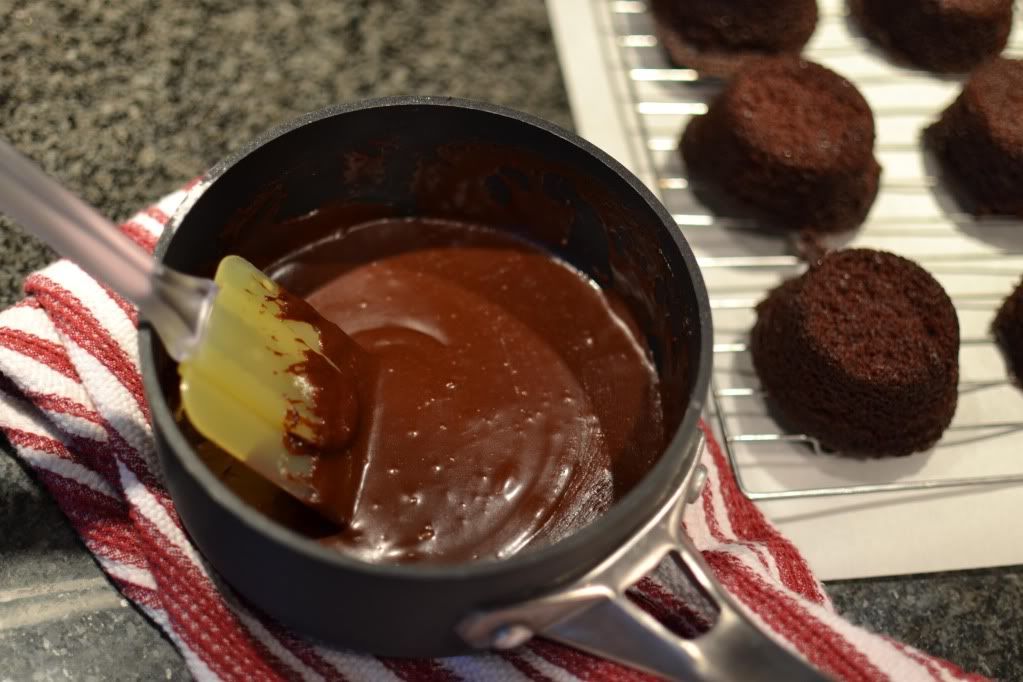 *****
from Simply Recipes
Cupcakes:
1 1/2 cups all purpose flour
1/4 cup unsweetened cocoa powder
1 cup granulated sugar
1 teaspoon baking soda
1/2 teaspoon salt
1 cup brewed coffee (or 1 cup of warm water mixed with 1 1/2 teaspoons of espresso powder or instant coffee granules)
1 Tbsp white vinegar
2 teaspoons vanilla extract
6 Tbsp (1/4 cup plus 2 Tbsp) olive oil
Frosting:
4 Tbsp butter
1/3 cup unsweetened cocoa powder
1 1/2 cup powdered sugar
3 Tbsp milk
1 Tbsp vanilla extract
Cupcakes:
Preheat oven to 350°F with a rack in the middle position. Prepare a muffin tin with cupcake liners or spray well with PAM baking spray .
In a large bowl, vigorously whisk together the flour, cocoa powder, sugar, baking soda, and salt until there are no visible clumps (cocoa tends to clump up).
In a separate bowl, mix together the coffee (or water plus coffee granules), vinegar, vanilla extract, and olive oil.
Pour the wet ingredients into the dry ingredients and stir only until they just come together. The mixture should be thin and rather lumpy.
Ladle the batter into the cupcake liners, filling them about two-thirds of the way full. Place in oven and bake for 18 to 20 minutes, until a bamboo skewer inserted in the center comes out clean.
Remove from oven and let cool in the pan for 5 minutes, then remove from pan and let cool on a rack. Once cool, you can eat plain, sprinkle with powdered sugar, or drizzle or coat with frosting.
Frosting:
While the cupcakes are cooking, make the frosting. Melt butter in a small saucepan and remove from heat. Stir in the cocoa until smooth. Sprinkle in about a third of the powdered sugar, stir, then sprinkle in about a half of the milk. Keep alternating with the powdered sugar and either milk or vanilla, stirring after each addition, until the frosting is the consistency you want, and smooth. If it's too runny, add more powdered sugar. If too stiff, add a little more milk or vanilla extract.
Check out the
original recipe
for tips on coffee selection and turning these cupcakes into one 8" cake.