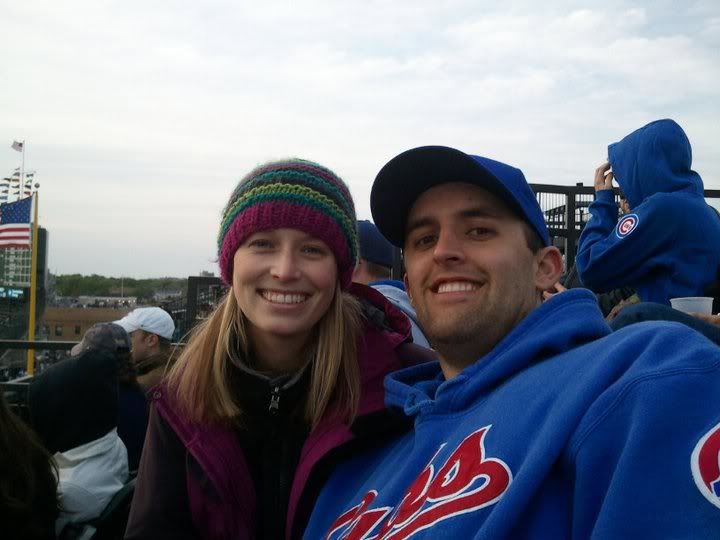 Sporting some winter gear at a Cubs game on May 24, 2011
It's a dance that continues well through mid-June with the ratio of cold to warm days slowly shifting. It takes so long to even out and warm up that my Farmers Markets doesn't start until late June. Which devastates me. Because when the weather warms up, all I want to do is get my hands on some fresh produce and start cooking. OK, and maybe take the dog on some long walks and sit outside in the sunshine drinking good beer.
The last few days have been pretty hot here with temps in the high 80s and low 90s (although as I post this, the temp has dropped back down to the 50s as if trying to prove a point). And I just can't wait for the Farmers Market anymore. So I borrowed some inspiration from
Iowa Girl Eats
and made her farmers market skillet using the freshest of the fresh from my grocery store.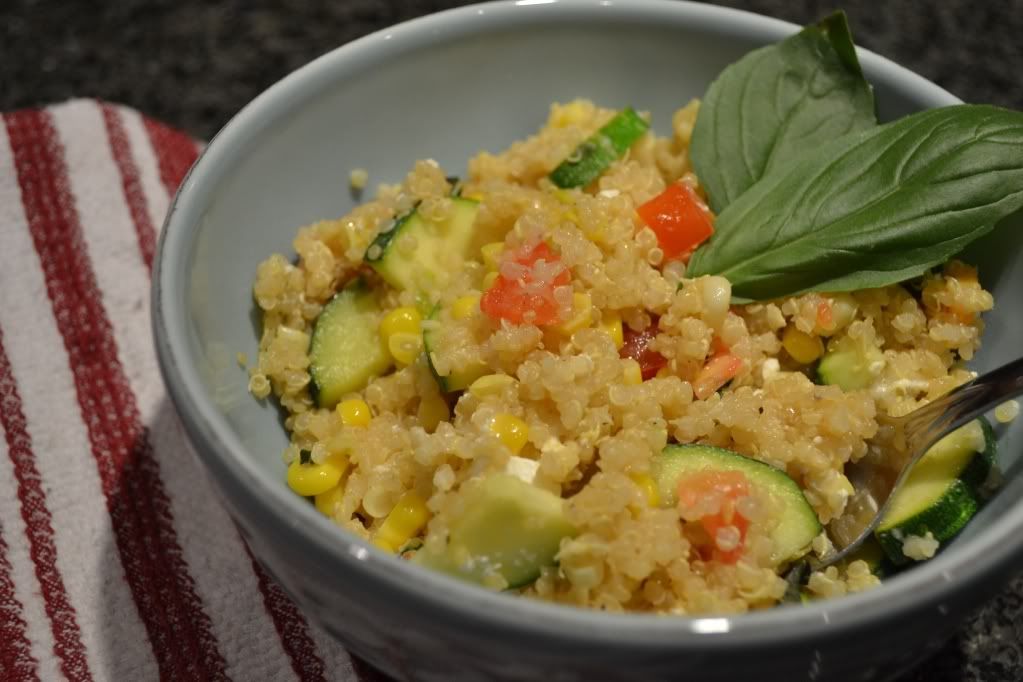 When I think skillets I think of excessive, greasy breakfast platters, usually being served up at one of Wrigleyville's finest bars. But this couldn't be any more different. It's basically a skillet slash salad with quinoa, fresh sweet corn, zucchini, vine ripened tomatoes, feta cheese and basil, all topped off with a honey lemon vinaigrette. It's the kind of meal that makes you want to pour a glass of wine, turn on some music and take your time in the kitchen.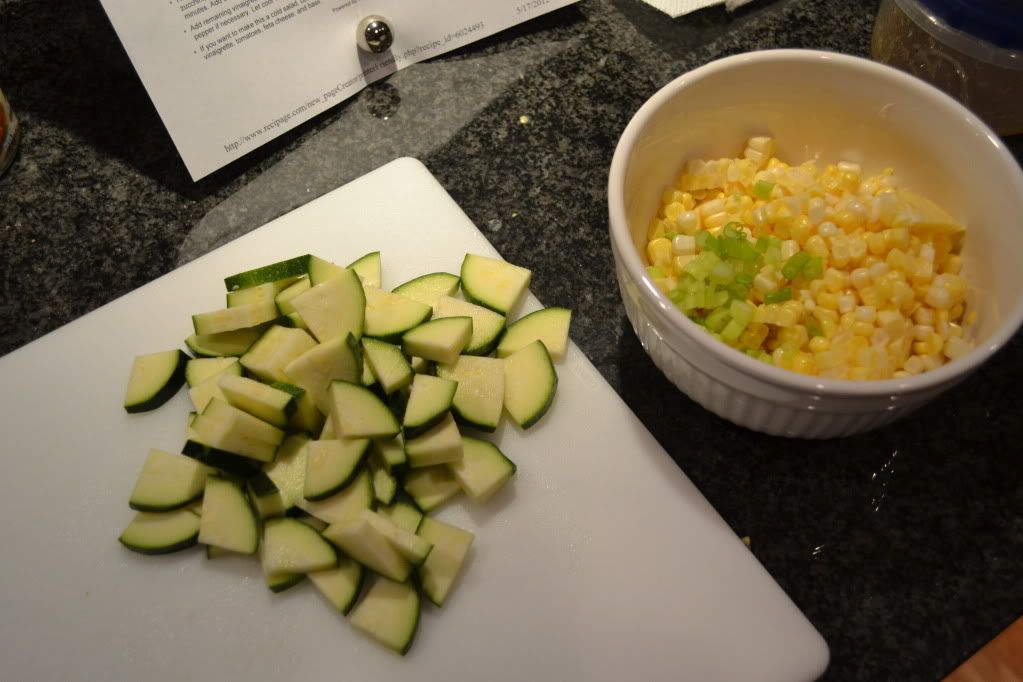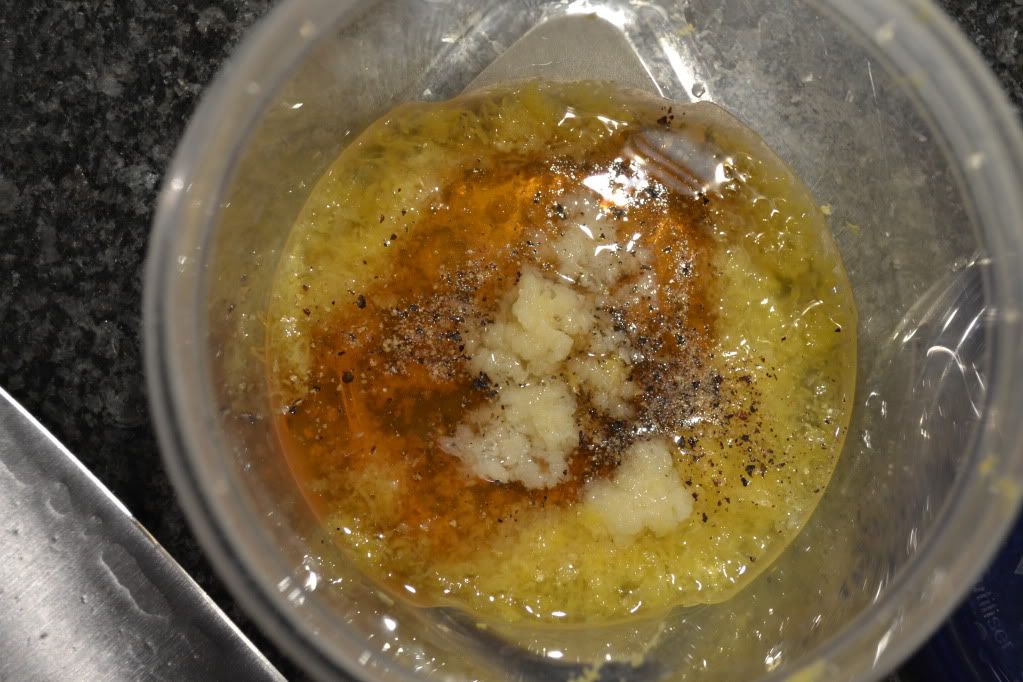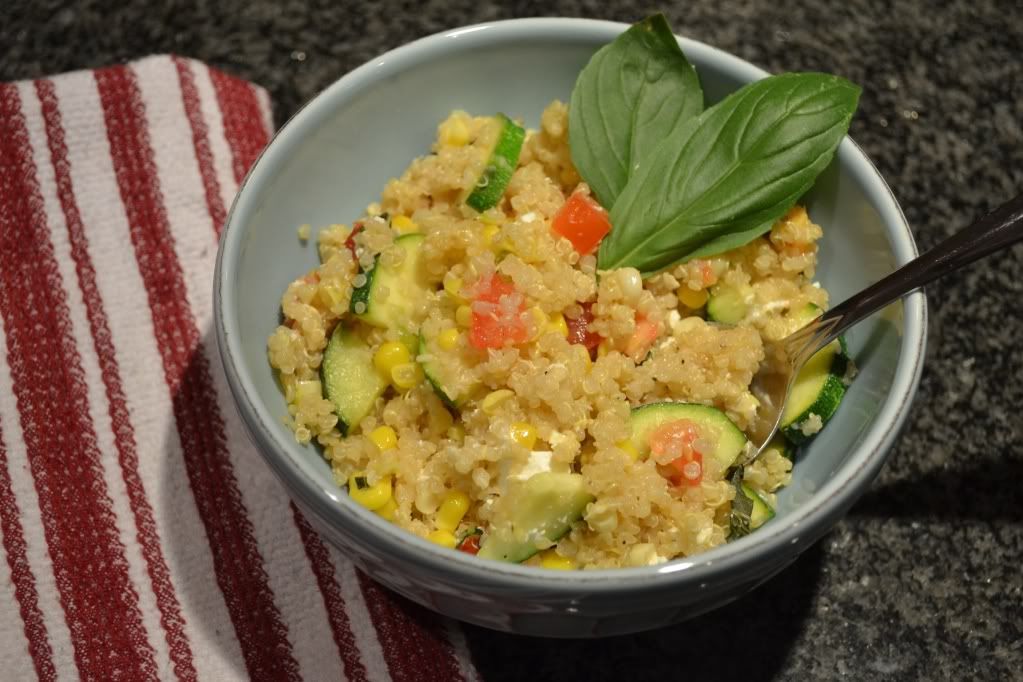 There's a ton of different flavors in this skillet but they all manage to pop and share the spotlight together. You will literally taste everything - from the honey, to the lemon, to the different veggies and the garlic. If you're never tried it before, quinoa is a grain that is a little bit chewy. In this recipe it's cooked in low sodium chicken broth so it's bursting with flavor.
The corn, zucchini and green onion come together nicely with the little bit of garlic and the tomato adds some fun pops of color (and taste). The honey lemon vinaigrette is a little bit sweet thanks to the honey and has a little bit of bite thanks to the garlic and freshly ground pepper. It was subtle but really nice over the quinoa and veggies. And it's a proven fact that basil and feta make everything better.
Next time (and there will definitely be a next time) I think I'm going to ditch the honey and just do a basic lemon vinaigrette. The flavors were beautiful but the honey part didn't do it for me. Just personal preference!
This would pair really well with some grilled chicken or beef kebabs or even just a green salad. Enjoy!
*****
Farmers Market Skillet - Quinoa with Zucchini, Corn, Tomato, Basil and Feta Cheese
From
Iowa Girl Eats
35-45 mins active
serves 4
1 3/4 cups chicken broth
1 cup quinoa, rinsed and drained
1 Tablespoon extra virgin olive oil
2 cloves garlic, minced
1 small zucchini, quartered and sliced (or half a large one)
2 ears sweet corn, kernels cut off the cob (about 1 1/2 cups)
2 green onions
salt & pepper
1 vine-ripened tomato, chopped
1/2 cup feta
2 Tablespoons chopped basil
For the Honey Lemon Vinaigrette:
1 Tablespoon lemon zest
2 Tablespoons lemon juice
1 1/2 Tablespoons honey
1 garlic clove, microplaned or finely minced
1/2 teaspoon salt
1/4 teaspoon pepper
Bring chicken broth to a boil in a saucepan. Add rinsed quinoa and place a lid on top, turn the heat down to medium-low, then cook until the broth is absorbed and quinoa is tender, about 25 minutes. Fluff the cooked quinoa with a fork and let cool slightly.
Meanwhile, combine all ingredients for the Honey Lemon Vinaigrette in a jar or bowl, then shake or whisk to combine and set aside.
Heat oil in a large skillet over medium-high heat. Add garlic and saute until golden brown, about 30 seconds. Add zucchini, sweet corn, and green onions, season with salt and pepper, then saute until barely tender, about 4 minutes. Add cooked quinoa and half the Honey Lemon Vinaigrette, then stir and cook for 1 more minute.*
Add remaining vinaigrette, tomatoes, feta cheese, and basil to the skillet. Stir well, taste, and add more salt and pepper if necessary. Let cool 10 minutes before serving.
*If you want to make this a cold salad, cool cooked quinoa and veggies separately, then mix with the remaining vinaigrette, tomatoes, feta cheese, and basil, and chill completely.