I'm sure you're thinking, that's wonderful! You have a man who wants to cook for you. To that I would say you are clearly unfamilar with the rule at my house which is "
she who cooks does not clean up
".
That meant I'd be on clean up duty after Roy's lasagna-from-scratch evening. One that would include chopping parsley with two knives, not one. Because dueling knives is so much more efficient. So much.
Anyway, back to the gooey, cheesy lasanga goodness...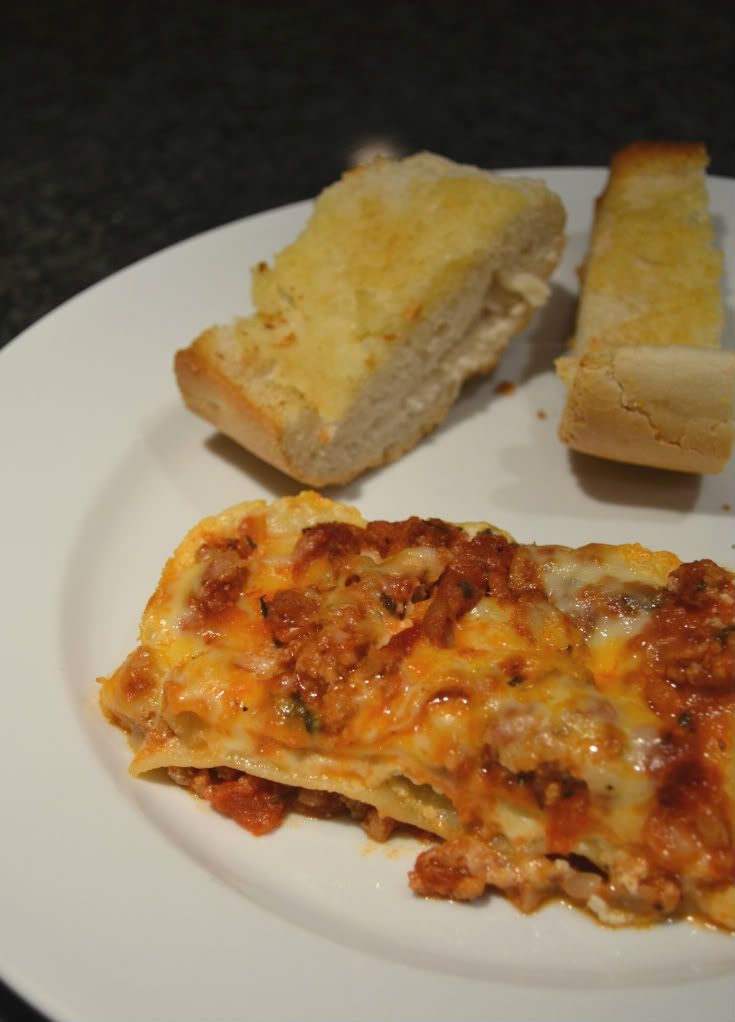 We used my Mom's recipe. It's what I grew up eating as a kid and got rave reviews from Roy at the holidays. I like this recipe a) because it's fantastic and reminds me of home and family. And b) because it uses cottage cheese instead of Ricotta. My body and Ricotta don't get along so it's a pretty important piece.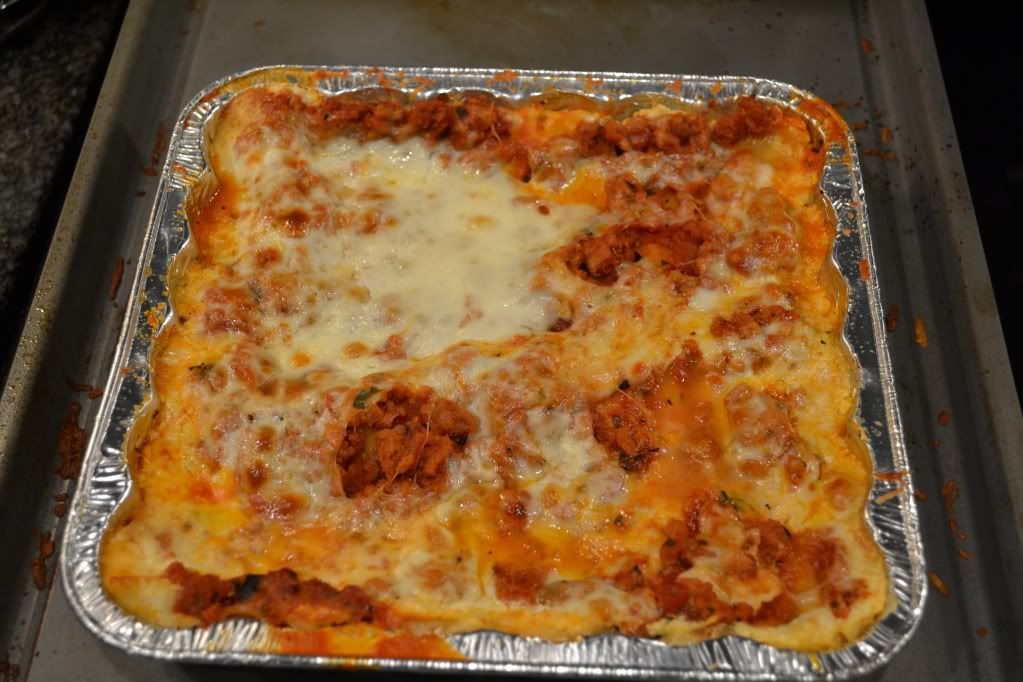 This recipe is decades old and beyond tried and true. My Mom had it in her recipe box well before I came along. It's a nice blend of homemade touches (like the meat sauce) and helpful shortcuts (like oven-ready, no-boil noodles).
Although I could see my Mom's eyeballs rolling all the way from Florida, I swapped the ground beef for ground turkey. Technically it was Roy's choice. I was a bit nervous about how it would turn out but figured we could try it at least once. I was pretty impressed with the results! I didn't even remember I was eating ground turkey until the 2nd day and it was definitely more of a positive then a negative.
Here's the sauce simmering with the ground turkey, tomatoes, herbs and spices. I love how rich and flavorful it is, without overwhelming the flavor of the cheeses.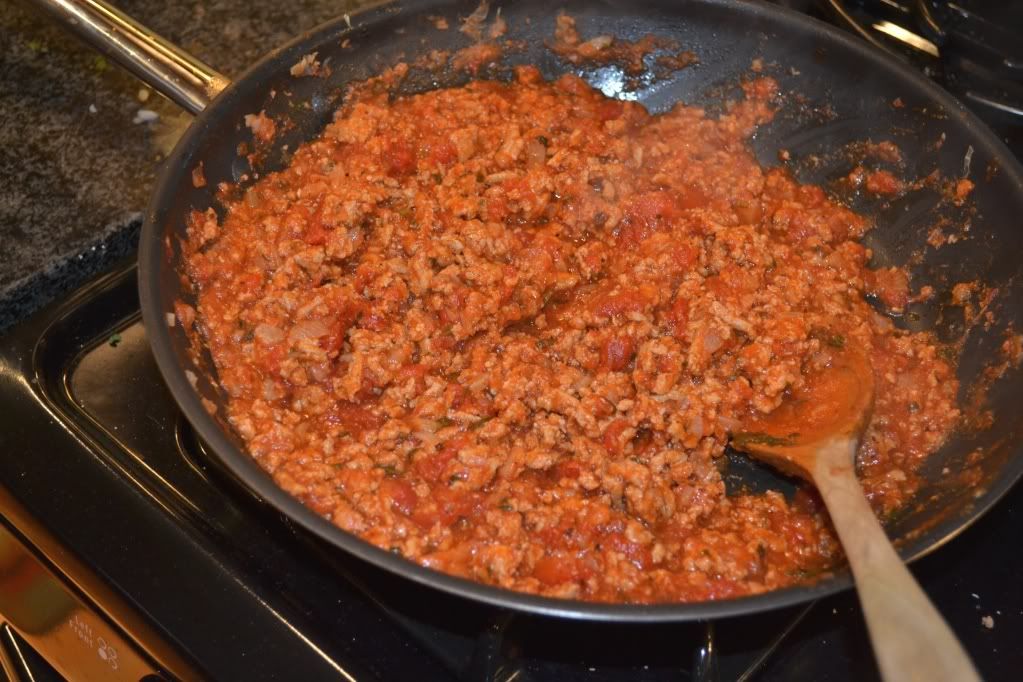 We made two smaller lasagnas so we could eat one and freeze one. Once you've made the sauce, get your pans going with a bit of sauce and then lay down your first layer of oven-ready, no-boil noodles.
Top with cottage cheese, mozzarella.
And them some grated Parmesan.
Add another layer of noodles, then sauce, then cottage cheese, mozzarella and Parmesan.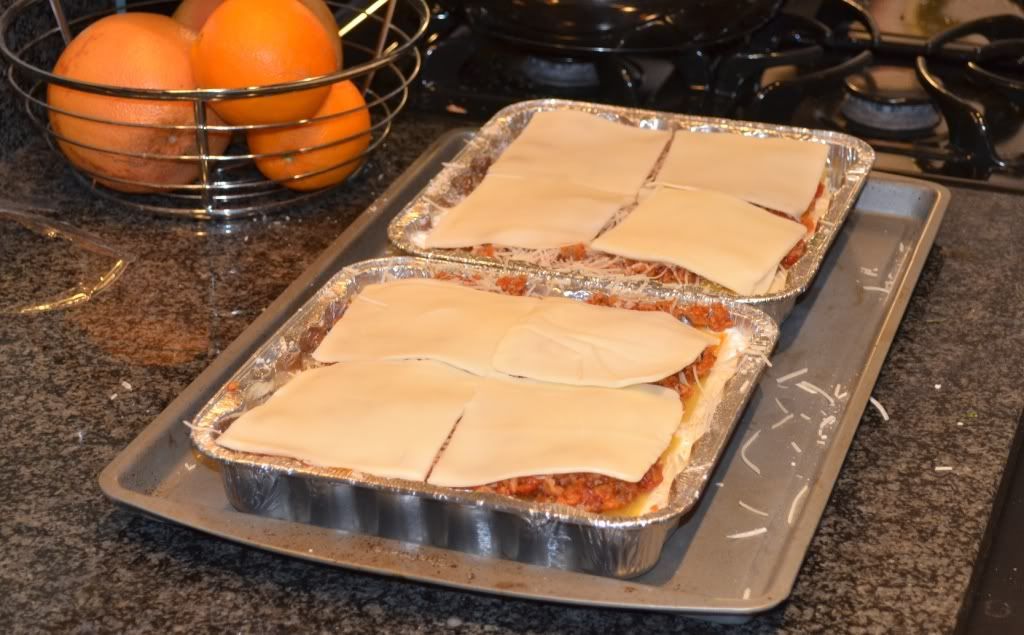 Then do one more layer of noodles, sauce, SKIP the cottage cheese and go straight to the mozzarella and Parm. Pop it in the oven and this is very important:
bake according to the directions on the noodle package
. It will probably be a combination of 30 mins or so covered with aluminum foil and 15 mins or so uncovered to make the cheese bubbly and brown.
Let it stand for 10-15 minutes before cutting in and serving. That will keep it from falling apart the moment you try to dig a piece out with a spatula. And it gives you plenty of time to prep your salad and make some garlic bread.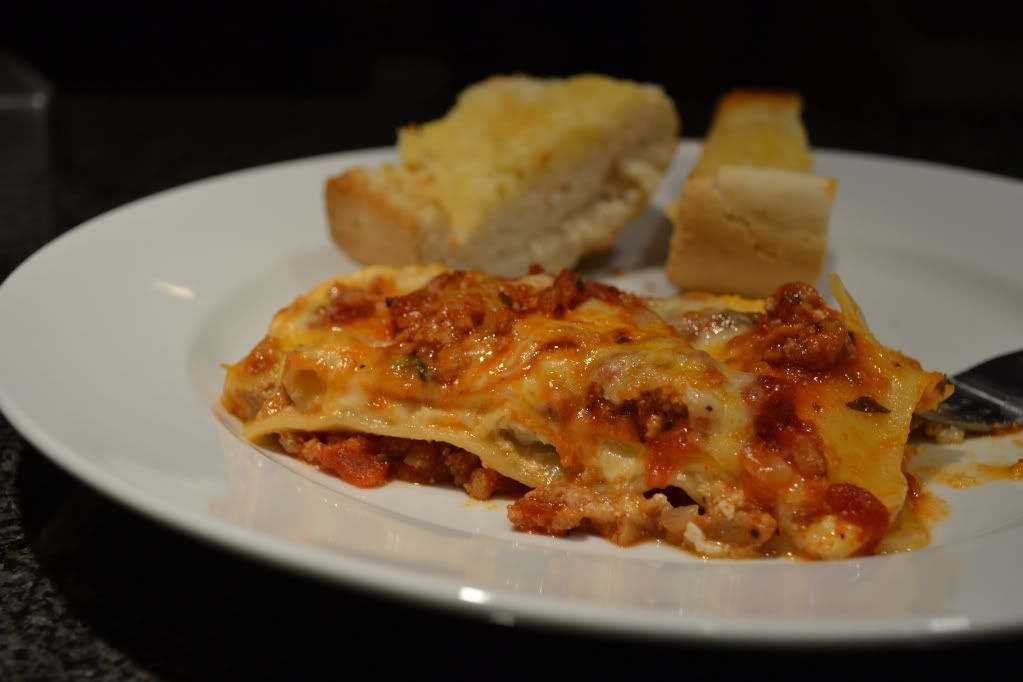 This is comfort food perfected in my opinion. And it's good any time of the year! I suspect we'll be digging into the frozen one sooner rather than later :)
*****
Ma Rob's Lasagna
45-50 mins active, 1 1/2 - 2 hours total
serves 6-8
1 lb ground beef or turkey
3/4 c. chopped onion
2 T. vegetable oil
1 lb (or 16 ounces) diced tomatoes with Italian seasonings
1 can tomato paste
1 c. water
1 Tbsp chopped parsley
2 tsp salt
1 tsp sugar
1 tsp garlic powder
1/2 tsp pepper
1/2 tsp dried oregano leaves
1/2 of an 8 ounce package of oven-ready lasagna noodles (aka: no boil noodles)
24 ounces 2% or no-fat cottage cheese
18 slices of mozzarella cheese
1 c. grated Parmesan
Brown the ground beef or turkey lightly in oil with the chopped onion.
When browned, add diced tomatoes, tomato paste, water, parsley, salt, sugar, garlic powder, pepper and oregano. Simmer uncovered for 30 minutes, stirring occasionally.
Spray your pan(s) with no-stick spray and spread a thin layer of sauce evenly over the bottom. Lay down your no-boil noodles breaking them to fit your pan if necessary and making sure they overlap a little bit. Add more sauce and then a layer of cottage cheese, mozzarella and Parmesan.
Repeat starting with noodles, then sauce, cottage cheese, mozz and Parm.
Repeat one more time WITHOUT cottage cheese. So just noodles, sauce, mozzarella and Parmesan.
Bake at the time and temp directed on your noodle package. Allow to stand 10-15 minutes before serving.