These friends, who also go by John and Kylie, have helped us dream up things like bacon wrapped buffalo wings, introduced us to the best Peking duck place for miles (
Sun-Wah BBQ
) and inspired the Thai challenge which is what happens when someone challenges the honor of your fave Thai joint and claims that theirs is better. So you each order a noodle dish, a curry dish and an order of crab rangoon and meet on neutral territory with a bottle of wine to eat, compare and vote like it's an episode of Top Chef.
[FYI - our place,
Opart Thai
, won by a hair but John and Kylie have requested a rematch]
Anyway, back to the point - John and Kylie love to eat and Kylie is a wonderful cook. Earlier in the year they hosted us for a fabulous French meal that included homemade French onion soup, greens with baked goat cheese and a mustard vinaigrette, coq au vin, rustic bread and a fresh apple tart. On a scale of 1 to 10, it was a 15.
We repaid the favor by hosting John and Kylie along with Roy's sister Christine for some homemade pizza Saturday night. I checked my normal OCD at the door and decided that despite having never made pizza at home before, this would be a great time to go authentic with homemade sauce, dough from scratch and a pizza stone (which Roy bought approximately 60 minutes before the arrival of our guests, I told you I checked my OCD at the door).
Worst case I figured we'd call Home Made Pizza Co. and have them deliver some uncooked, plain dough. Because that's the kind of friends John and Kylie and Christine are. The kind that are happy to just have another glass of sangria and go with the flow. Love those kinds of friends :)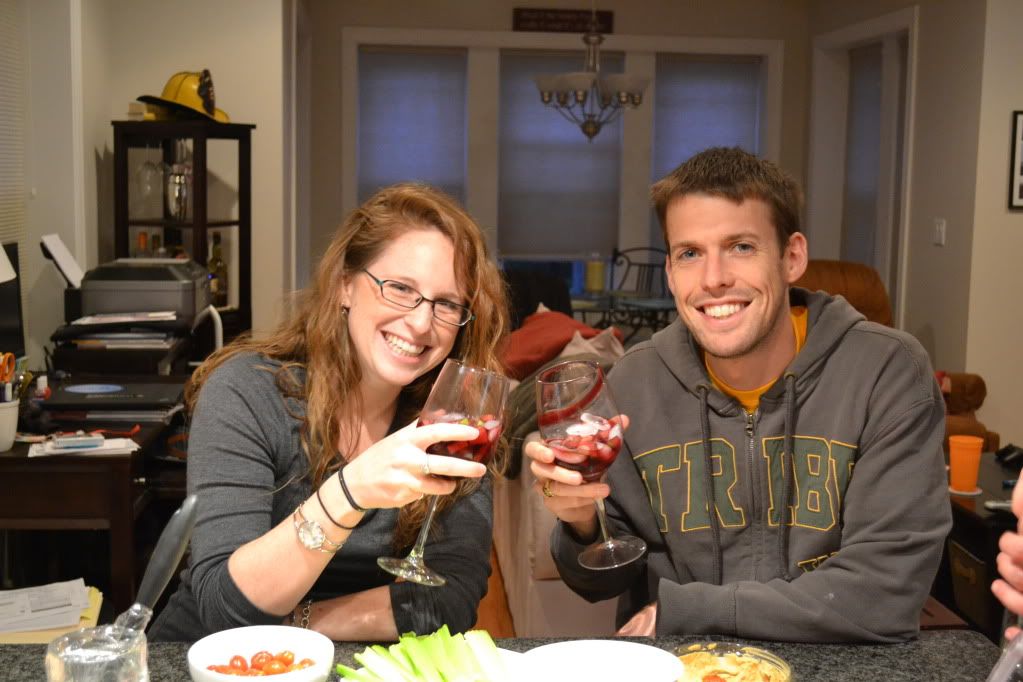 John and Kylie enjoying some sangria and apps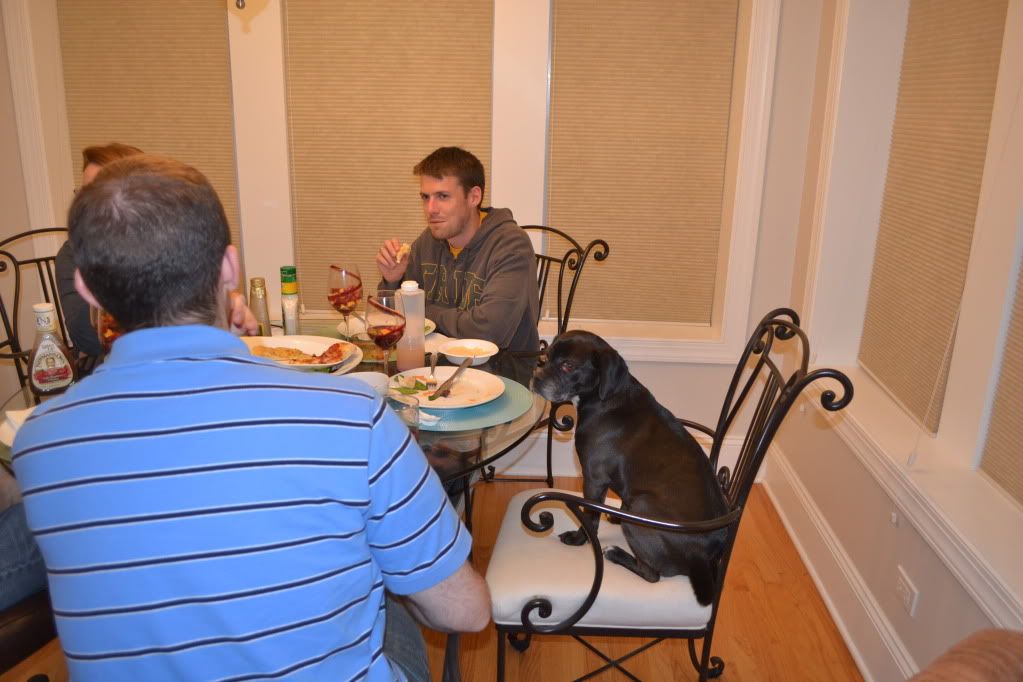 Good friends also go with the flow when you get up from the table and the dog
takes your seat like he's a member of the dinner party
I grabbed my sauce and dough recipes from the
New Best Recipe cookbook
and was pleasantly surprised by how easy they were and thrilled at how delicious they turned out. I did go through all 3 of my instant yeast packets (apparently that's why they sell them in three's) but I got it right the last time and everything came together beautifully.
I made a three cheese white pizza with a rosemary garlic olive oil that was AMAZING. The flavor of the herbs and garlic was wonderful and light. The fontina, Parmesan and mozzarella cheeses got brown and bubbly and really sent this over the edge. I think John ate almost an entire piece of the white pizza while walking with his plate from the kitchen to the dining room table.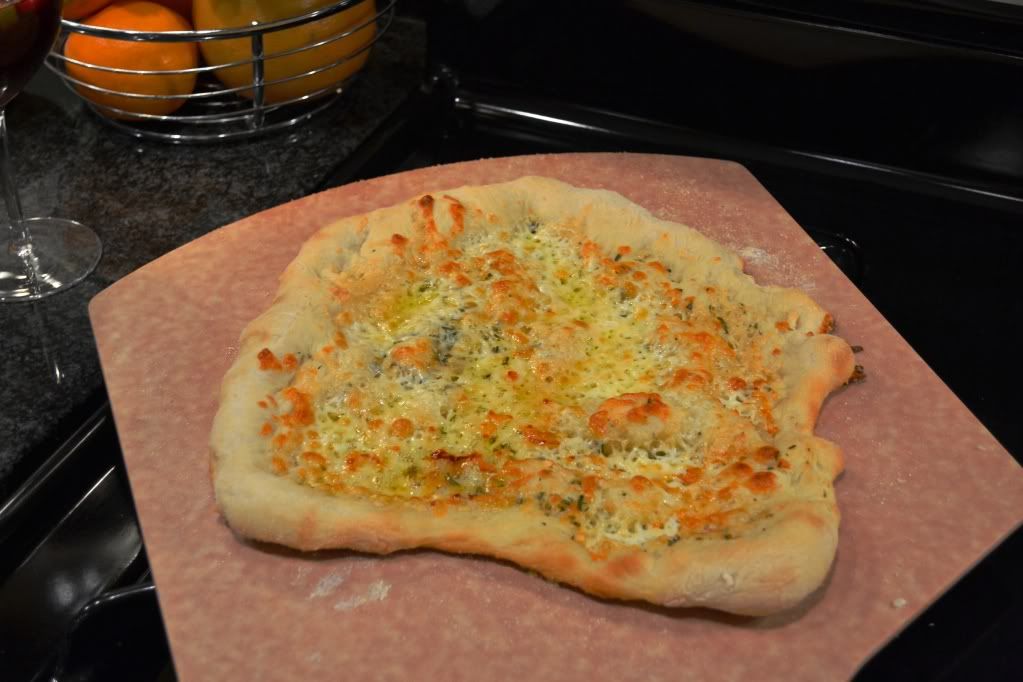 I also made a half veggie / half margherita pizza with a traditional red sauce that was out of this world. When John and Roy found out there was leftover sauce in the fridge they warmed some up in the microwave and used it to dip the crust.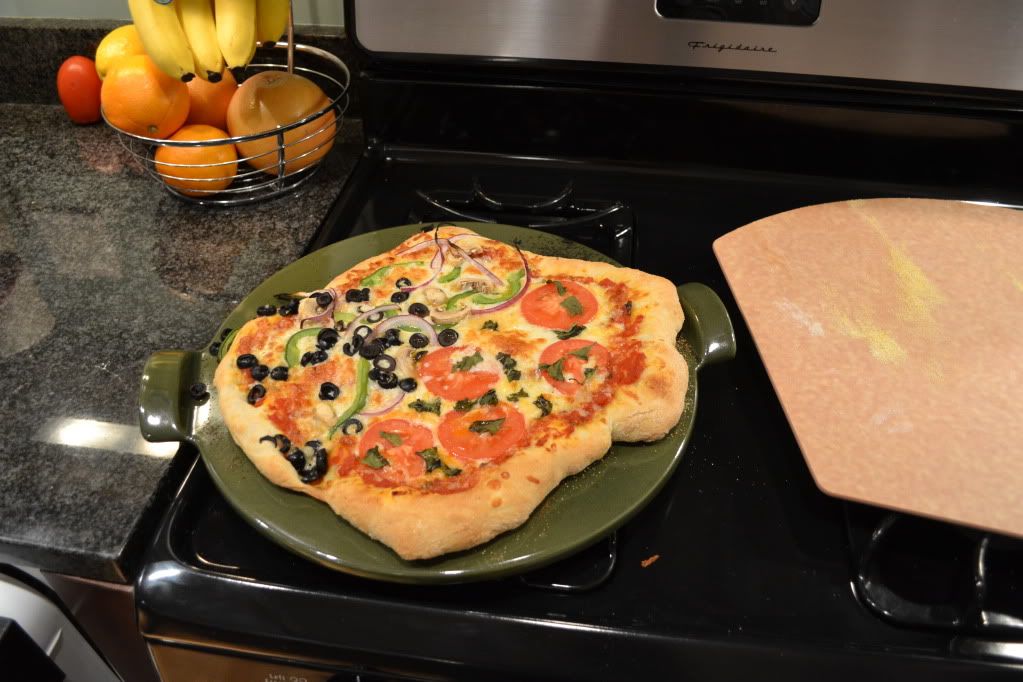 The recipes for the sauce, herb oil and dough are below. Do as much or as little as you like with this recipe. I think the dough, sauce and toppings are the perfect trifecta and worth the effort (which is actually pretty minimal). But I wouldn't hesitate to buy some premade dough at the grocery store to keep this simple on a week night.
If you're not familiar with the
New Best Recipe cookbook
, it's a good one to consider adding to your collection. It's done by America's Test Kitchen so it isn't just recipes, it's details on the how and the why behind cooking. I highly recommend it.
And I highly recommend these pizza recipes, preferably with some good friends and some wine!
*****
All recipes are from
New Best Recipe cookbook
Quick Tomato Sauce
20 mins active
makes about 3 cups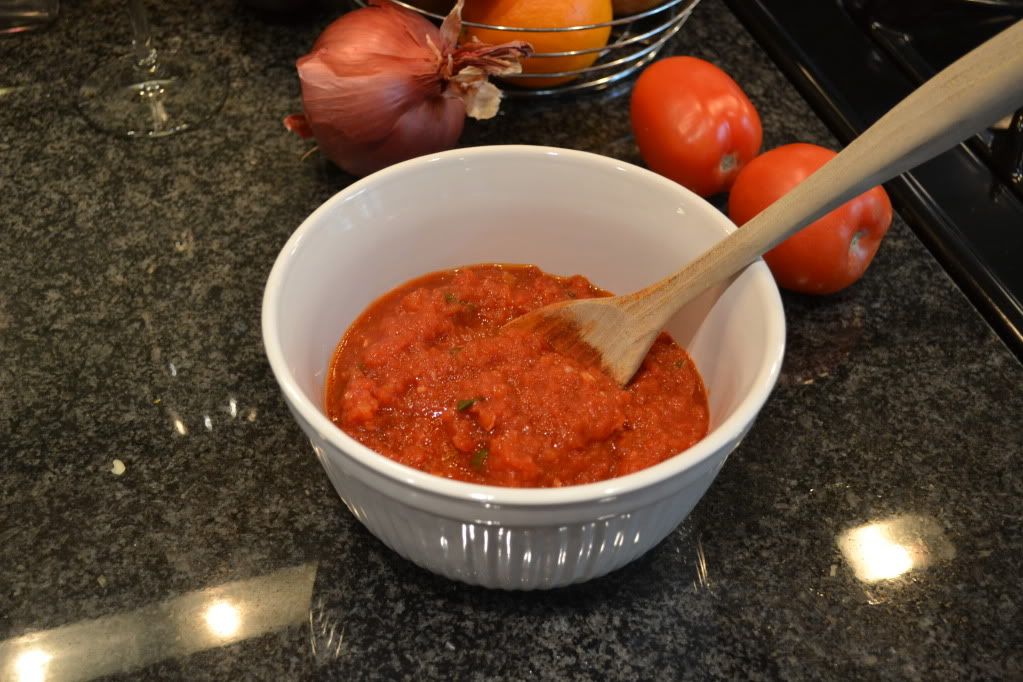 1 - 28 ounce can of diced tomatoes (I like Glen Muir organic diced tomatoes)
2 Tbsp extra-virgin olive oil
2 large garlic cloves, minced
2 Tbsp chopped basil
salt and pepper
Place tomatoes in a food processor and process until smooth (about 5 1-second pulses). Heat the oil and garlic in a medium saucepan over medium heat until the garlic is sizzling, about 40 seconds.
Stir in the tomatoes. Bring to a simmer and cook, uncovered, until the sauce thickens enough to coat the back of a wooden spoon, about 15 minutes. Stir in basil and season with salt and pepper.
Rosemary Garlic Herb Oil (for White Pizza)
15 mins active
makes enough for 3 medium pizzas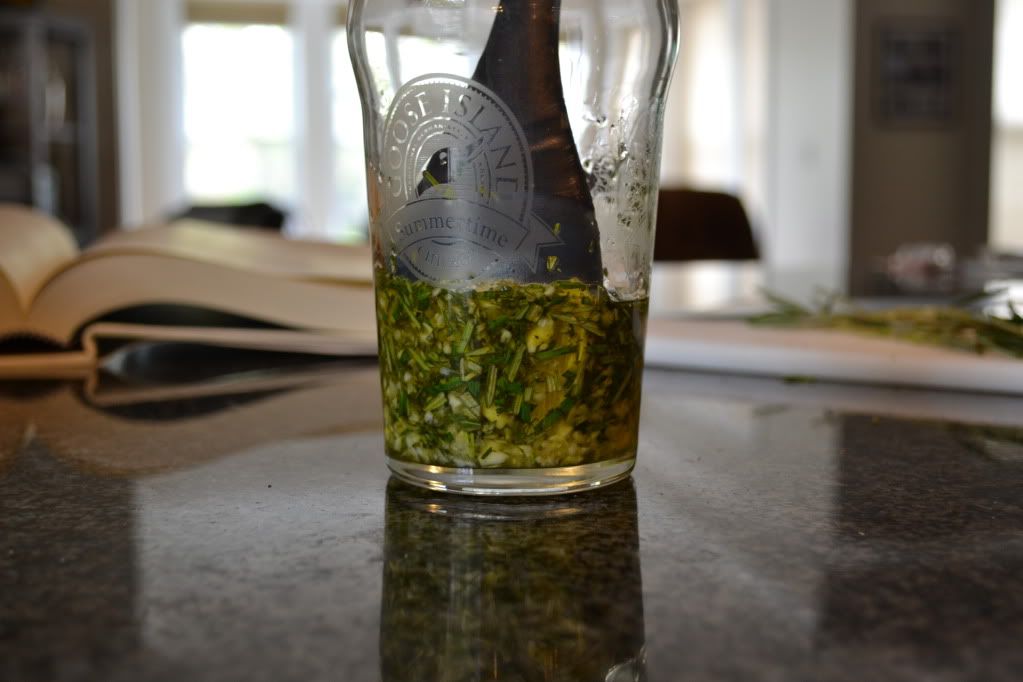 1/4 cup extra-virgin olive oil
6 medium garlic cloves, minced
4 tsp minced fresh rosemary leaves
Combine garlic, olive oil, and rosemary. To make white pizza - brush herb oil over the dough and top with mozzarella, Parmesan and fontina cheeses.
Pizza Dough
30 mins active, 1 1/2 hours total
makes enough for 3 medium pizzas
1/2 cup warm water (about 100 degrees)
1 envelope of instant yeast (about 2 1/4 tsp)
1 1/4 cups water, at room temperature
2 Tbsp extra-virgin olive oil
4 cups (22 ounces) bread flour, plus more for dusting the work surface and hands
1 1/2 tsp salt
olive oil or nonstick cooking spray for oiling the bowl
[note: if you can, use bread flour like the recipe calls for, it will give you the best texture and a crust that is chewy and crisp. Using all-purpose flour works in a pinch but the crust will be less crisp.]
To make dough:
Measure the warm water into a 2 cup liquid measuring cup. Sprinkle in the yeast and let stand until the yeast dissolves and swells, about 5 minutes. Then add the room temperature water and oil and stir to combine.
Place the flour and salt in the bowl of a standing mixer fitted with the paddle. Briefly combine the dry ingredients at low speed. Slowly add the liquid ingredients and continue to mix at low speed until a cohesive mass forms. Stop the mixer and replace the paddle with the dough hook.
Knead until the dough is smooth and elastic, about 5 minutes. The dough will be quite tacky, use a rubber spatula to form it into a ball and put it into a deep oiled bowl. Cover with plastic wrap. Let rise until doubled in size, 1 1/2 to 2 hours.
When the dough has doubled in size, press it down in the middle to deflate. The dough is now ready to use.
To make pizza:
Place a pizza stone on a rack in the lower third of your oven. Heat the oven to 500 degrees for at least 30 minutes.
Turn the dough out onto a lightly floured work surface and use a chef's knife or dough cutter to divide the dough into three pieces.
[I suggest two pieces, three pieces makes for pretty small pizzas]
Form each piece of dough into a smooth round ball and cover with a damp cloth. Let the dough relax like this for at least 10 minutes but no more than 30 minutes.
Working with one piece of dough at a time and keeping the others covered, shape the dough into a round that is about 1/2 inch thick. Transfer the dough to your pizza peel dusted with semolina flour or corn meal. If the dough loses it's shape, readjust it on the peel.
Add sauce and toppings, then slide pizza from the peel onto the hot pizza stone. Bake until the crust begins to brown. This can be anywhere from 6 to 12 minutes depending on size and toppings.
Remove from the oven using the peel, slice and serve. Enjoy with a glass of wine, you've earned it!