love
lemon desserts. They're so refreshing. And if you add in a few raspberries? It's enough to make me forget the best chocolate dessert I've ever had. That's saying something!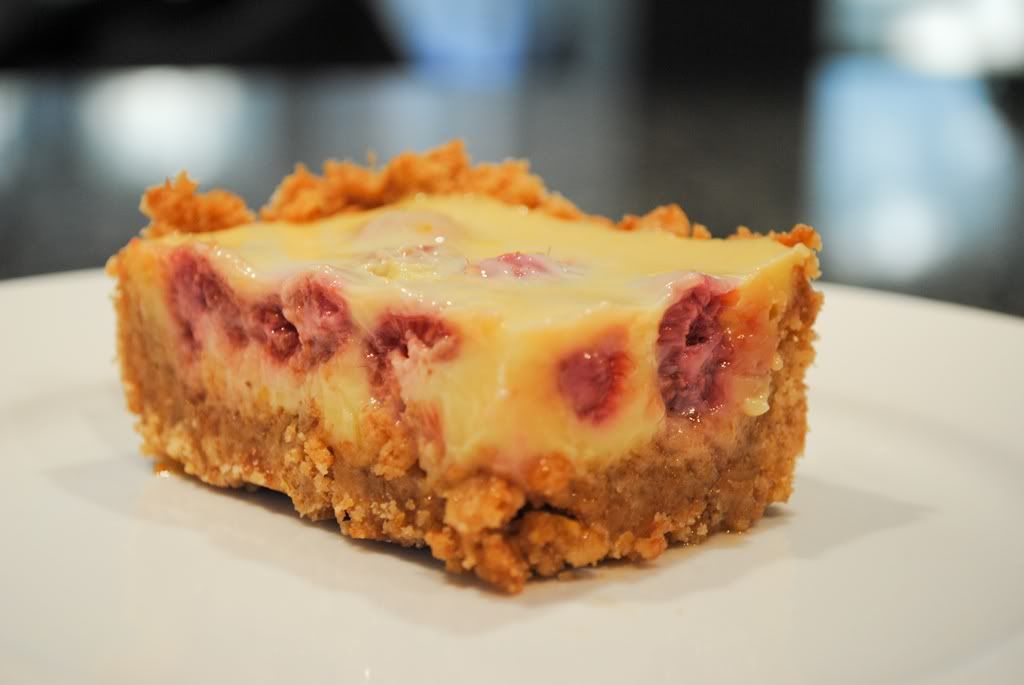 With the spring we've had in the Midwest, it hasn't felt right to make anything too summery. But I threw caution to the wind for the holiday weekend and made a batch of these bars for a "grill and games" night we were having with friends.
[Side note: my new favorite game is
Qwirkle
. It's like Scrabble for people who can't spell. It's a ton of fun and very easily turns into a drinking game, in case you were wondering.]
I'm not one for making desserts from scratch. Why recreate the wheel, or the baking mix when Betty Crocker did such a good job with it the first time?? But this looked worth the effort, which turned out to be pretty minimal when all was said and done. And ohhh
they are so delicious
!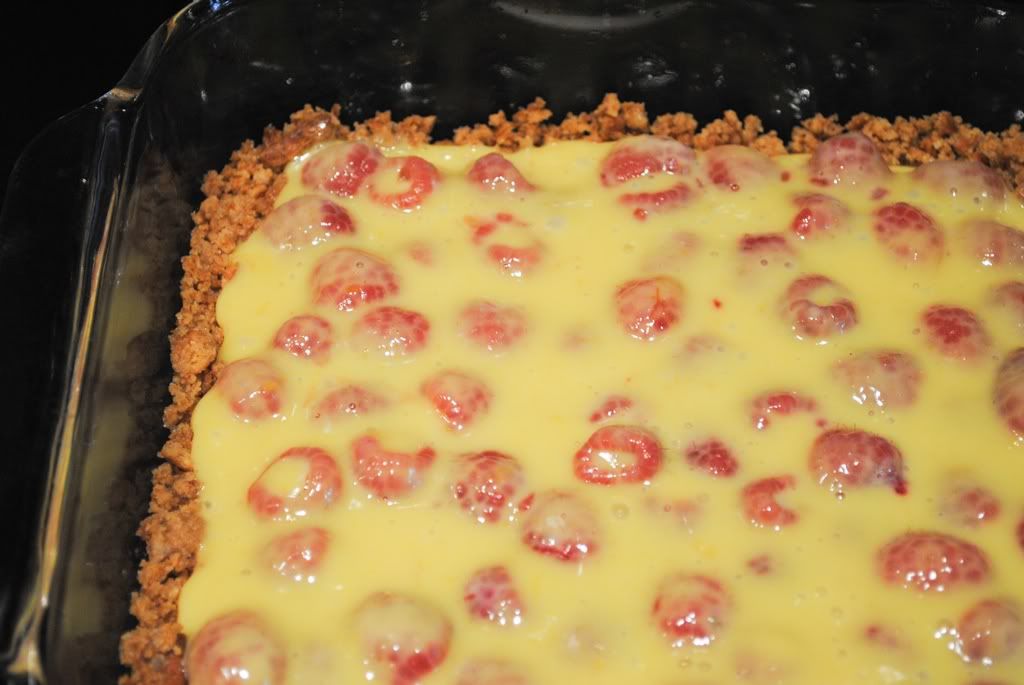 The crust is made of graham crackers but it includes lemon zest so it's got an amazing light, fresh flavor. The lemon filling strikes a perfect balance between sweet and tart. And the best part? Roy doesn't particularly care for desserts with lemon so the leftovers are all mine!
Definitely give these a shot this summer, you won't be sorry! Happy Eating!
*****
FOR THE CRUST:
1-½ cup Graham Cracker Crumbs (I used 8 graham crackers)
6 Tbsps Salted Butter, Melted
¼ cups Sugar
Zest of 1 Whole Lemon
FOR THE FILLING:
2 whole Egg Yolks
1 can Fat Free Sweetened Condensed Milk, 14 Oz.
½ cups Fresh Lemon Juice
1 tsp Lemon Zest
6 ounces Fresh Raspberries
Preheat the oven to 350F. Spray an 8x8 inch baking dish with cooking spray. Set aside.
In a medium bowl, combine the graham cracker crumbs, melted butter, sugar, and lemon zest. Don't worry if your graham cracker crumbs aren't all the same size, bigger pieces here and there are ok. Stir until graham cracker crumbs are moist. Press crumbs into the prepared pan, pressing the crust mixture one inch up the side of the pan. Bake for 10 minutes. Remove from oven and allow to cool to room temperature.
Once the crust is cool, combine the egg yolks and condensed milk until well mixed. Stir in the lemon juice and lemon zest. Stir until the mixture begins to slightly thicken. Gently fold in the raspberries. Make sure to fold them in carefully so you don't break the raspberries, otherwise the bars are pink instead of the pretty lemon yellow color.
Pour the lemon raspberry filling evenly over the graham cracker crust. Bake for 15 minutes, or until just set.
Cool to room temperature, then chill for at least one hour before serving. Cut into bars and serve. Keep bars in the refrigerator for up to five days.
Serves 16